Joanne Begiato. Manliness in Britain, 1760-1900: Bodies, Emotion and Material Culture. Manchester University Press, 2020. 240 pages, £85.00 Hardcover, £30.00 Paperback, £20.00 Ebook.
by Meaghan Walker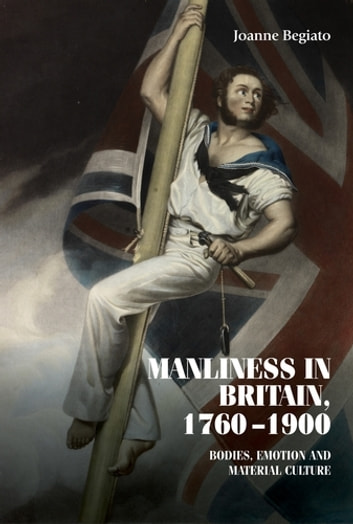 Joanne Begiato's Manliness in Britain is an important work that focuses on the bodies, emotions and material representations of men, particularly how manliness was constructed in relationship to working-class men in the nineteenth century. This book focuses on a vast array of occupations, but contains significant reflections on sailors, especially naval sailors. This is significant in positioning maritime labourers as part of the wider landward British workforce, whose experiences at sea and exploits on shore influenced the understanding of masculinity in British cultural broadly. Begiato argues that manliness centered working men's bodies and expressed desire for and an appreciation of men's appearance and strength. She focuses on 1760 to 1900, a periodisation I appreciate as a scholar who sees considerable continuity between the eighteenth and nineteenth centuries.
Begiato starts with two complementary chapters that that define beauty in the former and ugliness in the latter. These work together well; by establishing how a nineteenth-century ideal of manly beauty changed over the course of the period, the concurrent development of effeminacy, vice and lethargy as revealed by ugliness is striking. These chapters show the transition from the Georgian masculine ideal that was classical—young, slim, athletic and clean shaven—to the hefty Victorian body that was mature, heroic, and bearded. All the while, anxieties about the changing nature of labour, especially sedentary clerical and industrial work, equated manliness with beauty, strength, and self-control. The body was therefore understood to reflect an inner morality, with a pleasing, culturally acceptable appearance showing goodness and disability, ugliness, fatness, and illness being not only deserved but representative of the inner self. This was complicated, however, when the state owed something to disabled and aging bodies of pensioned sailors and soldiers. As Begiato remarks, the "personal histories of manliness were used to mitigate the diminishing effects of age" (p. 92).
The third chapter focuses on military masculinity and its representation in material culture. Begiato suggests that sailors and soldiers represented the most desirable forms of nineteenth century manliness. The military body was depicted as heroic in art, used to sell products in advertisements, and reproduced in material objects like mass-produced ceramics and children's toys. The uniformed soldier or sailor embodied the state; his bravery reflected his love of his nation and his desire to protect the quiet domesticity of British home life. Begiato spends some time in this chapter on the story of Jack Crawford, a sailor who in the 1797 Battle of Camperdown returned the downed flag of Admiral Duncan to place by climbing into the rigging of HMS Venerable under fire and nailing it to the mast with a marlin spike. Crawford was represented in paintings, engravings, reproduced in pottery, used in advertisements for medicine, was adapted to stage, and is depicted on the cover of this book. Begiato notes by the end of the nineteenth century, Crawford, an adult man when he had performed his act of heroism, was increasingly being depicted as a youth, showing "the extent to which martial manliness was co-opted to serve as an exemplar for boys" (124).
The next chapter discusses manliness and domesticity. Begiato notes the paradoxical nature of men's relationship to the home, as they were absent from home life but were also important in contributing to the home through their wages and by defending it abroad. Men had to be both free to leave the domestic space but relieved to return to it, as art depicting farewells and returns reinforced. Sailors, of course, were favourite subjects of these cultural artefacts as their labour at sea removed them most distinctly from a commonly understood domestic milieu—one with women who performed gendered labour. Ratings and soldiers also gained extra cachet by leaving both the home and the home front to undergo extreme hardship, even death, to defend them. Still, it was important that men were understood to long for the home. Homosocial environments like the ship or the barracks were celebrated as temporary quarters with brothers-in-arms but this was only acceptable if they were situations tolerated with reluctance.
The final chapter of Manliness in Britain explores the depiction and celebration of the working-class body and brings the discussion back to the ideas of beauty presented in chapter 1. Particularly visible or striking bodies are the focus here, such as blacksmiths, navvies, firemen, miners, and lifeboat men. These men were brawny or brave or both and were self-depicted as such in order to empower themselves as workers vis both other working people and also the middle-class. Sailors rescuing drowning men was an act that was frequently lauded and depicted as heroic and manly, especially when in opposition to violent seas and heavy weather. With the establishment of the Royal National Lifeboat Institution in 1854, the heroic actions of its members were increasing depicted instead of focusing singularly on the tragic wrecks as lifeboat men made surviving such an event off the British coast increasingly likely. The images of working men as brawny heroes at home and abroad lent them some political power. Begiato shows that the certificate of the National Amalgamated Sailors' and Firemen's Union of Great Britain and Ireland illustrates two workers flanking a globe. The workers, a fireman with a shovel and a sailor posed with an anchor, are actually portraits of the union president Havelock Wilson and the MP Samuel Plimsoll—they gain the embodied working-class legitimacy of their union members and constituents by being reproduced in such a way.
Manliness in Britain is an important book, linking ideas about gender, class, material culture and emotion to good effect. The significance of the maritime world is apparent throughout, making sailors, firemen, navvies and longshoremen a part of the working-class world and not distinct or removed from it. Begiato, however, could be more careful about distinguishing military seafarers from those in the merchant service and fishery, a relationship that evolves throughout her chosen period. As the navy professionalised and ratings were increasingly restricted to a handful of major and minor dockyards around Britain, merchant seafarers in sailortowns became extremely visible as rowdy drinkers and spenders during the late nineteenth century and this troubled many middle-class observers in a way that was both aspirational to working men and damaging to their reputations. Secondly, though Begiato mentions the importance of clothes, for example military uniforms or the rolled-up working man's shirtsleeve, more attention to apparel would be useful to examine how they presenting themselves, but also how material representations like ceramic figures and prints were used to expose working-class culture to middle-class consumers. Ready-made clothing, a new development in consumption pioneered by working men, particularly seafarers, was adopted by fashionable upper- and middle-class men, for example. Still, these are small observations that come from my own interests and suggest the work that can be done in the future rather than problems with the book. Manliness in Britain does important work by recentering British manliness on working-class men whose labour, culture, and lives were a source of fascination for middle-class observers at the time but have not benefited from an equal amount of scholarship today.