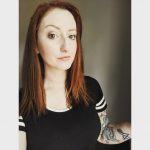 Jamie Goodall is an Assistant Professor of History and Assistant Archivist at Stevenson University in Baltimore, Maryland. She teaches courses on a wide variety of historical subjects, including American and World History surveys, Intro to Public History, and Pirates of the Caribbean/Atlantic among many others. She is currently transforming her dissertation into a monograph, tentatively titled Selling the Seven Seas: Piracy, Tastemaking, and Consumption in the Early Modern Caribbean World (1650-1790) with LSU Press. She also has a forthcoming book with The History Press: Pirates of the Chesapeake Bay: A Brief History of Piracy in Maryland and Virginia.
She received her B.A. in Archaeology and her M.A. in Public History-Museum Studies from Appalachian State University (Boone, North Carolina) in 2008 and 2010 respectively. She received her PhD in History, with fields in Early America, Atlantic World, and Military History, from The Ohio State University in 2016.
Dr. Goodall has earned a number of research grants and awards for her work on piracy and material culture in the Caribbean/Atlantic, including a Bradley Fellowship, the Mershon Center for International Security Studies Research Grant, Gould-Saunders Memorial Endowment Travel Fund Award from the Association of Caribbean Historians, and a Stevenson University Faculty Research Grant.
Her professional development includes serving as a freelance editor/academic consultant for McGraw-Hill Education, contributor to the online textbook The American Yawp, subject matter expert for Cengage Learning, and as a judge for the Maryland State finals of the American Legion Oratorical Scholarship Contest. She has published book reviews for various organizations and a digital exhibition review for HASTAC. Dr. Goodall has also presented at many regional, national, and international conferences including the 38th Annual Economic and Business History Society Conference, 2013 Mid-Atlantic Conference on British Studies, the 17th Annual Omohundro Institute of Early American History & Culture Conference, New York University Atlantic Workshop, and 49thAnnual Association of Caribbean Historians Meeting, among others.
Dr. Goodall has been interviewed for The Rogue Historian podcast ("Episode #34 Pirates, Public History, and PIRATES! With Jamie Goodall"), gave an invited lecture ("From Gold to Glass: Pirates as Tastemakers in the Early Modern Caribbean") for Bryn Mawr's History Department lecture series, and has been invited to give a community talk on piracy and public history at Coastal Carolina University.
She can be found on Twitter and Instagram (both handles are the same): @L_Historienne
You can also find her at the Maryland Renaissance Festival dressed as her alter ego: Torienne, Ship's Scholar of the crew Mare Nostrum! She drinks and she knows things.