As some people will know, I have recently moved from working tugs to working for the City of Toronto aboard their ferries (for the summer at least). It's been a while since I've done a ship spotting post, but I though it would absolutely be worth it to do one on my last few days at Ocean. It's almost as it's been a whistle stop summary of the varied types of jobs and ships that we interact with.
I'd like to go by theme, rather than chronologically.
We went to Oshawa several times during my last week. As some of you will know, in the past going to Oshawa has meant a 6 hour transit (each way), though theoretically it was Ocean's policy to keep a tug (usually the Laprairie) there. Well, the Laprairie is there, so we were able to drive. So here are a few interesting photos.
The Solina was a customer several times in my last week. We took her out of Oshawa, took the pilot off of her in Hamilton later the same day. One of the best looking Polsteam boats I've seen in a while, a brighter shade of blue, I'm guessing it's been in drydock since the last time I saw it. It unloaded steel, then went to Hamilton to load grain.
Another trip to Oshawa was later in the week, when we put the Federal Dee in on the west side. I just thought this was a particularly fun photo on a rather good day.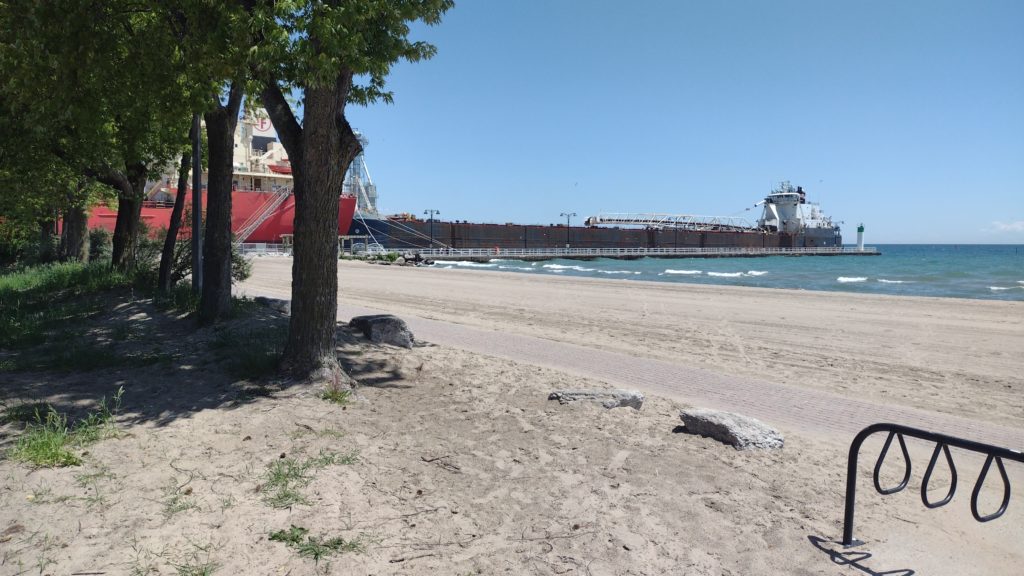 We weren't finished in Oshawa, however. Later still we went back to take out the Pacific Dawn. While we were there, we watched the Algoma Buffalo (formerly the American Buffalo) leave the harbour unassisted, in some wind. It was very impressive, they went quite quickly (3 or 4 knots, maybe) and even then they were very much set down onto the red (eastern) buoys.
speaking of the Pacific Dawn, here it is in all of it's Euro River Bulker glory. Small, as they are. This ship reminds me of a cross between a Jagermech (from Battletech) and the kind of ship that might appear in the classic Thunderbirds. A Single stack, offset to port, raked, and a sharply raked foc'sle. As you can see, we pulled it out of Oshawa by the stern. Clearly, this ship did not need our help but I was really chuffed that the last thing I would do in Oshawa would be doing this, just so nice since it was a fairly common thing we did.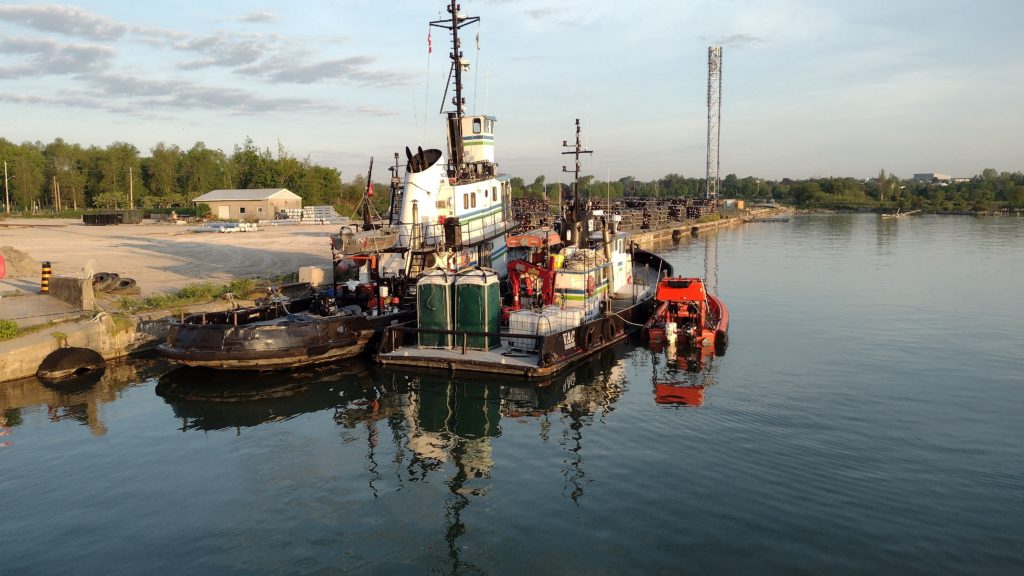 Also in Oshawa, here we have the McKeil tugs Vigilant 1 and the Vac. Both of these are fascinating vessels- the Vigilant was originally built as the Glen class Glenlivet II by Russel Bros for the Royal Canadian Navy, and was converted by the Nadrovskys of Port Dover/Nanticoke fame. the Vac is another Nadro tug, and was converted (as is their wont) from a single-screw fishing tug to a triple-screw tug. Both joined Mckeil when it bought out Nadro Marine. They're now in Oshawa supporting a McKeil project taking core samples off of Darlington nuclear reactor (according to rumours I've heard since joining the Toronto Ferries)
Now, Toronto. I was fortunate also to have a job in Toronto as one of the last things we did in this tour. Here, we're taking the Federal Barents in to Redpath on the Saturday. (it would leave mid-week, while I was working on the ferries). It was a very easy job (we didn't even put up a line), and the pilot (Peter Cole, formerly CO of the Griffon) did his usual wonderful job. It was a great weather, a good afternoon, and it was nice to be working with the Omni Coastal as well. The Federal Barents is one of Fednav's newer ships (which they call ocean-going lakers). You can tell because it has an abbreviated bulbous bow and four cranes.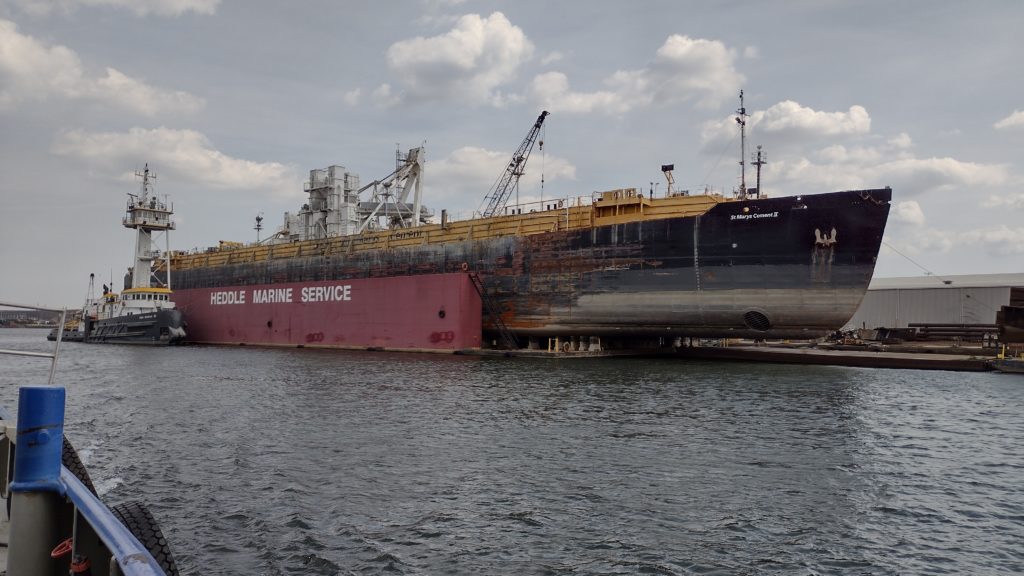 We also had some jobs in Hamilton, of course. One interesting job was helping move the barge St Mary's Cement II out of dock, and over to the wall at pier 26. In this photo, you can see exactly how damn big the barge is (built as a barge, not converted from a ship, AFAIK). We were one of three tugs assisting in this project. The tug you can see is the Sea Eagle, which is effectively permanently mounted to the barge. It was in drydock because it ran aground and needed an emergency drydocking.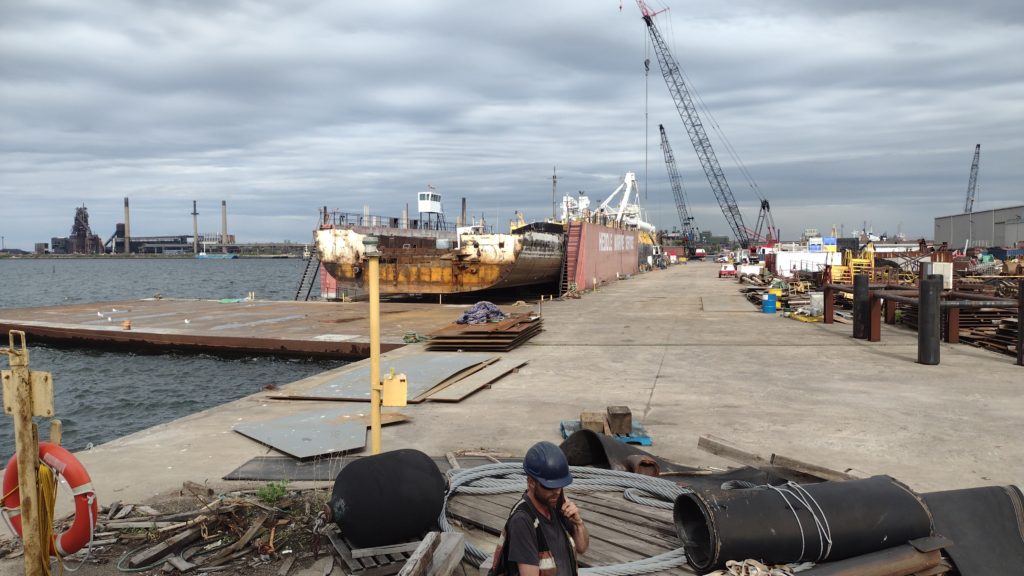 I took this photo while we were waiting. These are the last remains of the former Provmar Terminal ship, (now replaced by the fuel tanks on pier 24). If you can look closely, you can see that the pipes all have caps on them- this was because it was in the drydock the barge went into and had to be floated quickly and the drydock, completely responsibly, didn't want anything to leak into Hamilton Harbour.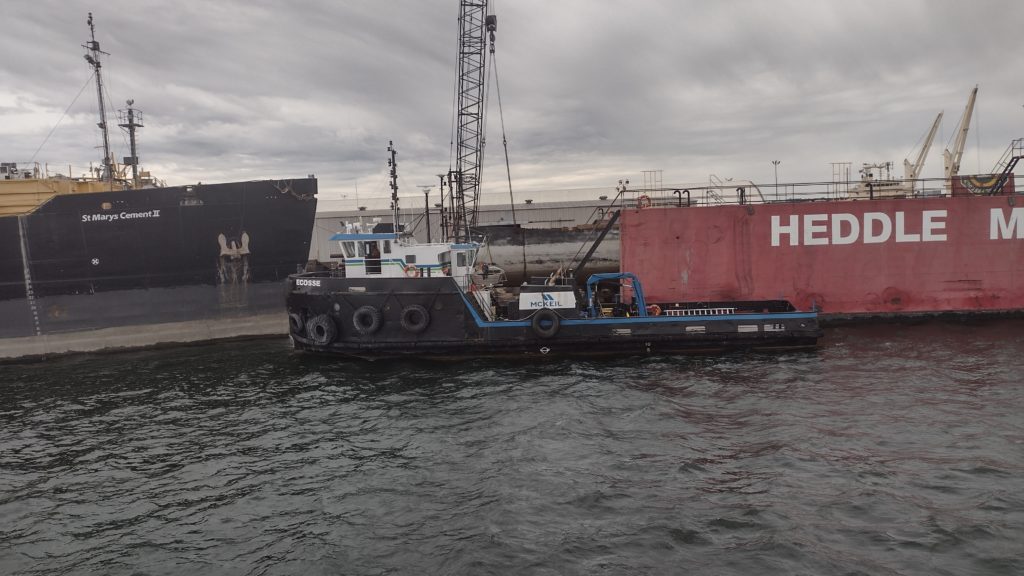 This is the Ecosse, a McKeil tug we worked it. It's -aesthetically- one of my favourite tugs. I love the lines of the foc'sle, and the long working deck, and everthing. It was originally built to support the oil industry in Lake Erie. The truth is, it's an incredibly uncomfortable and underpowered tug (from everything I've heard from those who have worked on it). Noisy, underpowered, and the very blunt bow (hidden, from this point of view) means it smacks against waves rather than going through them. But it looks great from the side view.
Here, we have the last photo. An appropriate place to end really, because it's the Solina. The last job I did at Hamilton was putting the Solina on the wall at pier 10, and here we are, taking a pair of bowlines over to pier 11 (so that the Solina can shift back and forth and load grain into its 6 holds).
It was over all a quite pleasant week. I had some late nights, and It was a surprise that it would be my last week (I didn't know until Wednesday that I might be getting the job with the ferries). This isn't to say that there won't be ship spotting posts in the future- I'm going to be spending the next 15 weeks working in Toronto Harbour, and there are certainly interesting things going on there. I'll also try to do a shipspotting post all about Toronto's fleet of ferries!