Late last month, I (aboard the Ocean A Gauthier) transited the Welland Canal, in order to escort the new USS St Louis to Lake Ontario. During this trip, we spent a couple of days in Port Colbourn, Ontario, and I was able to take some neat photos of both the boats that are denizens of the harbour, and also passing traffic. Very luckily, the Captain I was working with on that rotation is from Port Dover, ON, and was able to provide me with a lot of details about the more local vessels. In addition, we spotted a number of fairly familar ships, and at one very rare bird indeed. In this post, I will cover the first couple of days
Near the mouth of the Welland Canal, lakeside of Lock 1 is the Canadian Coast Guard Search and Rescue station at Port Weller. The main vessel there is the Cape class Cape Storm. The Cape class is derived from a USCG design for motor lifeboats, and many are deployed around the Great Lakes. They are 40 GT, and can make more than 20 kts. The Cape Storm has responsibility for the western side of Lake Ontario, covering from the Niagara River to Oshawa, Ontario (so effectively the entire working area of the Hamilton-based Ocean tugs.)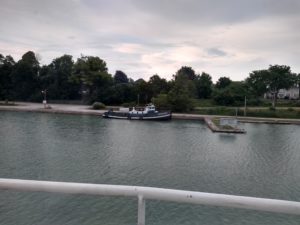 This is the diving support vessel AIS Clipper. It was originally built as the Stanley Clipper, a fishing tug operating out of Port Dover. On 30 April 1984, it was sank with all hands aboard in a storm. When the sunken vessel was found (approximately 12 miles south of Port Dover), it was then refloated, and local legends Nadro Marine extended and expanded the vessel for diver support. The deckhouse of the vessel is the limits of the original hull (A turtlebacker). It now has a hyperbaric chamber and other equipment. It worked for Nadro (as the Nadro Clipper) from 1994-2008, and then was sold to AIS Group, the current owners.
Here, we have the Coast Guard icebreaker CCGS Amundsen. She is a Pierre Raddison class icebreaker, which came into service in 1979. She was built as the Franklin, and then served as the Sir John Franklin until 1996, when she was declared to be surplus and used as an accommodations vessel in Labrador. In 2003 she was re-commissioned as an Arctic research vessel and renamed Amundsen. The name Sir John Franklin is now used by a new fisheries research vessel, recently come into service in British Columbia. Given the recent well publicized problems with the CCG Icebreaking fleet (which has necessitated purchasing several new icebreakers), I'm sure their glad they didn't totally dispose of this ship.
Here we have the Federal Margaree. We've seen her before- Fednav ships often use our tugs for docking assist in Hamilton, Toronto or Oshawa. The Federal Margaree was one of the very few salties/regular traffic that we saw on our way to Port Colbourne, and I was fairly surprised. However, we do know that traffic is down quite a bit this year. It looked like the Margaree was in the process of unloading various aggregates. This is the kind of bulk cargo ships like this often carry. With these ships- salties- they are designed to Seawaymax dimensions (to precisely fit the locks of the Welland Canal- but at 27ft, they cannot reach their full/designed depth/waterline- so they can only carry a smaller-than-usual cargo once they are in the Seaway.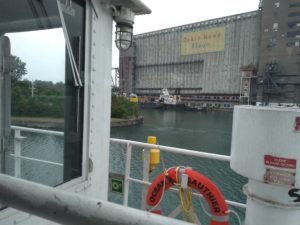 This is the Petite Forte, a regular denizen of Toronto, Hamilton and much of the lower Great Lakes. She's one of two tugs owned by St Mary's Cement (the other is the Sea Eagle II). Here, she's pictured just tucked down a "siding", that's just downstream of Port Colbourne itself. Cement boats are remarkably *ugly* things, and they have a reputation of being quite nasty to work aboard as the cement powder can get into one's pores, and then harden (and is difficult to get out). It's actually a pusher tug and barge combo, and the unit is sufficiently long that she actually has to go out into Lake Erie to turn around and head back the other way down the canal.
In the next post, I will include photos of the ships that passed us while we were docked in Port Colbourne, and the photos I took of the ship breaker's yard.