On my last rotation, one early morning we had some time to kill so we drifted down past Heddle's Drydrock to the graveyard next door. I've shown some photos before, but this time we were able to get much closer and there are fewer ships there, so we were able to get some better photos of the ones that remain. All photos are courtesy of myself.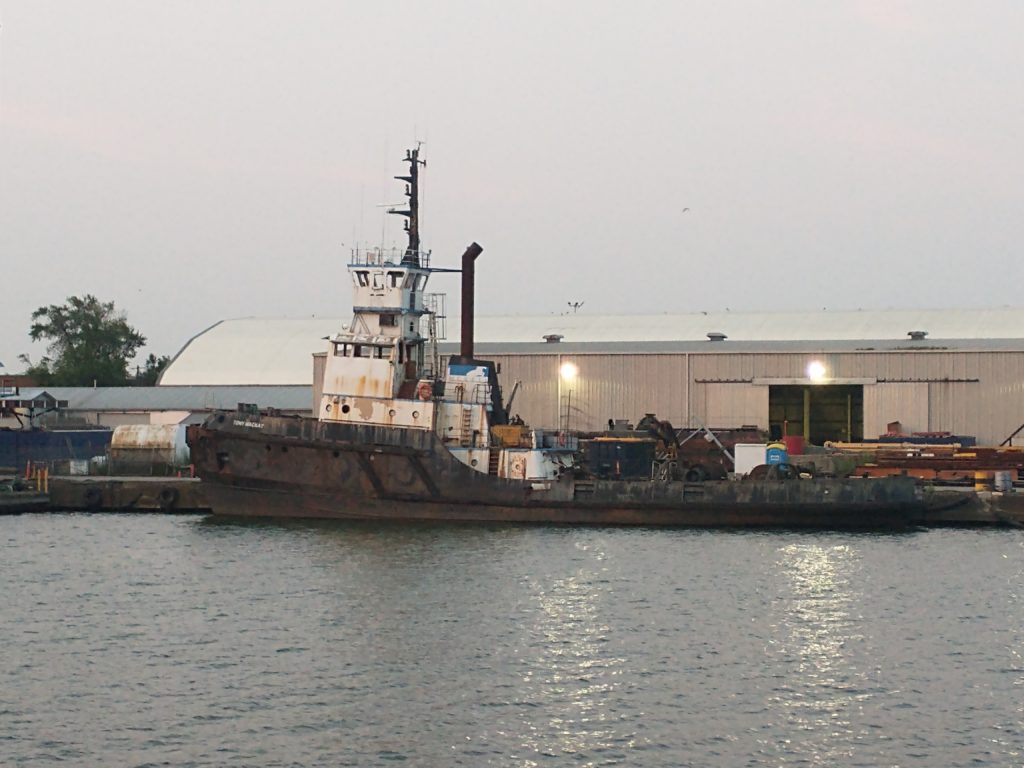 This is the former Tony Mackay, which was a McKeil tug used for pushing barges (hence the upper flying wheelhouse). It's pretty clear that the upper wheelhouse was added- but it's not clear whether the lower wheelhouse (At the same level as the original stack) is original, or whether it was added later when the tug was modified. This tug was until very recently tied up against Dofasco's wall, with a number of other tugs- but it's been out of service for longer than I've worked at Ocean. It looks like it's going to be scrapped- indeed I expect the scrapping to be well underway by the time I start my next rotation on Monday.
This is the new structure at Randall's Reef, right by Heddle. They've been building it on top of a toxic spilled cargo- and dredging the reef to cap the material. In several years time, when they've finished it- at least the rumour is that Ocean's tugs are going to move there. (Convenient in some ways, much less convenient in others).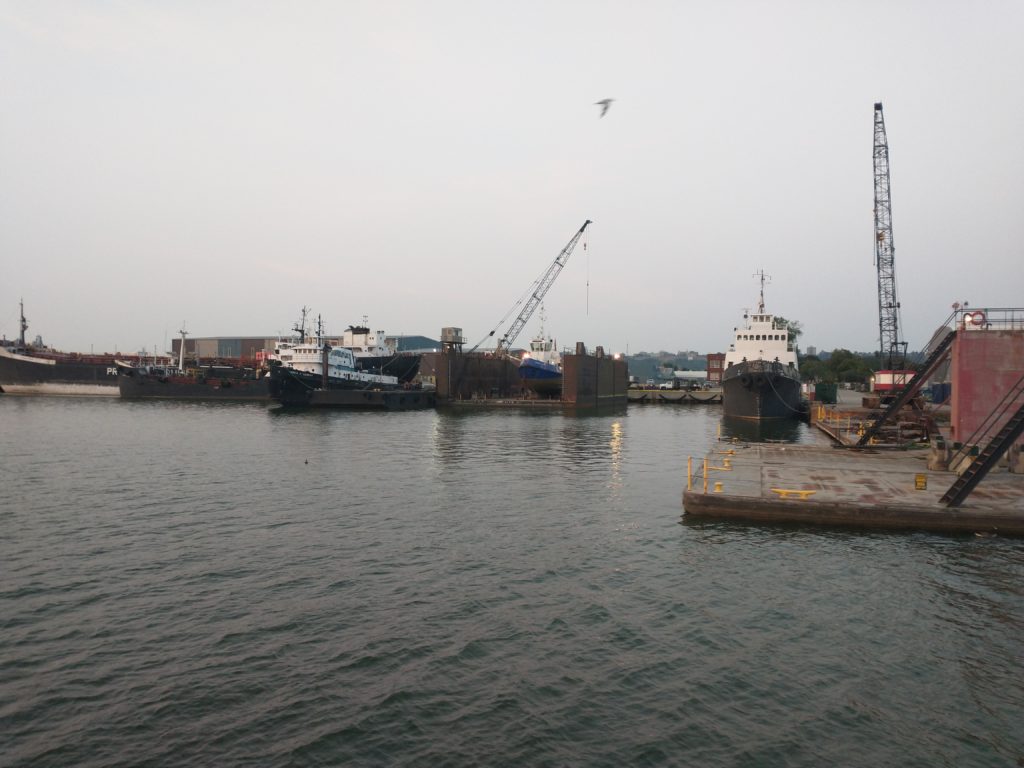 Here from right to left we have the John Spence, which used to be a McAsphalt tug. She was parked in a different orientation before, further to the left. It looks like she's going to be scrapped soon- it was formerly a McAsphalt tug before they bought the Everlast and Leo A Mcarthur. In the middle is the Ocean Golf, one of the tugs I work on. She's actually been launched now- at the end of my last rotation we were putting tires back on and cleaning. She's been working while I've been off. Further to the left is the James J Hannah, which like the Tony Mackay had been tied up as long as I've been working in Hamilton Harbour. It looks like Heddle's likewise preparing her for scrapping.
In this previous post, I showed you stern views of these two vesels- the Hamilton Energy and the "Terminal"- these used to be the refueling terminal and tanker in Hamilton before the Sterling Energy was purchased. Like the Sterling Energy, the Hamilton Energy is a rather small vessel- much smaller in fact than I assumed. Almost looks like a converted trawler. However, she was actually built in 1965 as a tanker. Her history can be read here.
This is the former CCGS Simcoe, which for many years was one of the Canadian Coast Guard's boats working in the Great Lakes and the St Lawrence doing Navaids. She eventually worked alongside, and was effectively replaced by the CCGS Griffon, which can be seen here, and which I worked on for two rotations three years ago. In fact, many of the crew of the Simcoe now work on the Griffon. As you can see, she's absolutely ideal for Navaids and that kind of work- the Griffon (and the Martha Black, and her sister ships) are only larger versions of this design, with very little changed other than size and size of the accommodations. I'm very glad I was able to get this close- I've wanted to see this ship for years and we've never been able to get close- and there's always been other ships parked on outside so this view would have been blocked.