Marsh, Peter J. Liberty Factory: The Untold Story of Henry Kaiser's Oregon Shipyards, US Naval Institute Press/ Seaforth Publishing, 2021. €61,95. Hardcover, 192 pages, ISBN: 9781526783069.
by Alexander Van der Biest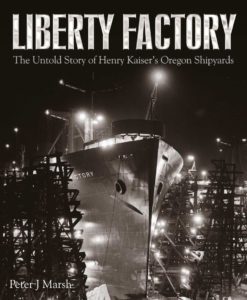 In 1990, Ellis challenged decades of Second World War military historiography by claiming that victory was unnecessarily delayed by inferior leadership and tactics, but ultimately inevitable due to superior production results.1 In the specific case of the 'Battle of the Atlantic', he singled out tanker and cargo carrier construction figures, particularly those from the US, as key.2 More recently, Symonds reasoned that every Allied campaign was conditioned by the availability and continuous output of sufficient ships, particularly escorts, merchant and transport ships and landing craft.3 Despite this acknowledgement, events and participants actually at sea remain the discipline's preferred subjects compared to the actual ship production process and the more anonymous people involved in it. In Liberty Factory: The Untold Story of Henry Kaiser's Oregon Shipyards, British-born maritime journalist Peter J. Marsh addresses this imbalance by putting the latter in the spotlight.
Marsh celebrates US-based shipbuilders' essential contribution. As a long term local resident he specifically focuses on the 150 000 men and women so involved in the hitherto unlikely Portland-Vancouver area of the US state of Oregon. In the process, he enriches not just the as just described comparatively poor body of literature on WW2 shipbuilding. He also rescues a relatively unknown part of 20th century Portland history and the specific extent of female workers' involvement beyond the incomplete, reductionist propaganda poster image of 'Rosie the riveter', and to a lesser extent, that of African Americans, elderly and disabled workers, and one point, even Native Americans (regarding the latter see specifically p. 108).
Although it is a minor point, the title seems somewhat misleading. To the good fortune of all potential readers, his focus is not just entirely on the 3 ad hoc shipyards created by industrialist Henry Kaiser. Although these inevitably shine by sheer weight in numbers and scale and as presented as beacons of social innovation. Those familiar with the history of Industrial Revolution might be reminded of 19th century British entrepreneurs like Sir Titus Salt. But if you lack knowledge of the organisation of production, specifically pertaining to this industry, you may sometimes need to take Marsh's word for it.
Neither is this a completely 'untold' story as its title claims—Oregon University Press has published an insider's account.4 But the subject can likely only benefit from Marsh's larger scope, wider contextual analysis and the attention his publication will hopefully receive. For in their comparatively short existence, these shipyards successfully launched and outfitted an impressive amount of much needed vessels, constantly setting and breaking construction records to great coterminous acclaim. The frequent usage of statistics and trivia like the amount of square feet welded or materials used is one of the ways the complexity of ship production and enormity of these years of staggering effort are truly brought home.
After a chronicle of the descent into war, Marsh develops his chronicle through three different parts. Part One, 'The Emergency Shipyards' chronicles the overall history of Kaiser's sites from their creation from scratch to their closure. Part Two, 'the Kaiser Yards in close-up' zooms in on specific aspects key to or illustrative of their success, from their founder's biography to housing infrastructure. Finally, Part Three, 'Other Portland Area War Industries' is self-explanatory, focusing on both subcontractors and the construction of craft just as important, like tugs or sub chasers. This change from a top-down to a bottom-up/ inside out perspective and then back does not always further the author's aim of delivering an anthropocentric account. It also results in a few occasions of unwanted repetition or overlap, or questions that raised but only properly answered in later chapters. Nevertheless, like the efforts of the workers themselves, Marsh's accessible writing style ensures that, despite an occasional industrial vernacular overload without a glossary, once his argument truly stops rolling, there is no stopping it.
Essential to the book is the author's access to the late local maritime editor Lawrence Barber's personal period photos and notes, and his extensive research in online archives, more obscure and period in-house publications, including by the companies themselves. The carefully selected, duly enlarged and high quality photographs alone justify the cover price. To Marsh's credit, despite his friendship with Barber, he brings a critical perspective to his sources and labour relations, not shunning away from pointing out their shortcomings from a 21st century perspective.
Due to its various themes, this title is recommended reading for anyone with an interest in World War II maritime and 'home front' history, but could very well used as case study material for discussions in inclusive sociology of labour or even business management classes. At a time when voices are raised as to the decline of Anglo-American shipbuilding industries and merchant navies,5 I can also easily imagine this book adding further fuel to the debate by highlighting the impressive mobilization once possible.
---
Alexander Van der Biest earned a BA (Hons) in International Relations and Security Studies and a MScEcon in the latter subject at Bradford and Aberystwyth University (UK), as well as postgraduate diplomas in Development and Humanitarian Aid at Jaume I University (Spain). The COVID-19 pandemic rekindled his love for naval history and led to the creation of a dedicated Bookstagram, @Paper_can_reviews, in preparation for a possible return to higher education.
Citations