Alastair Bonnett, The Age of Islands: In Search of New and Disappearing Islands (Atlantic Books, 2020). ISBN: 978178649090, £16.99.
By Tim Chamberlain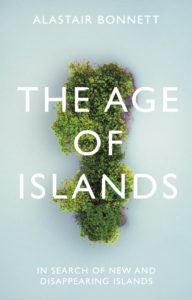 Islands hold a common fascination for many people, and not least for geographers and travel writers. One only has to think of Arthur Grimble's A Pattern of Islands, James Hamilton-Paterson's Playing with Water, or Michael Moran's Beyond the Coral Sea to name just three published since the 1950s. Then, of course, there are the numerous fictional renderings of this seemingly innate fascination, from the likes of Daniel Defoe, Robert Louis Stevenson, R. M. Ballantyne, and William Golding, many of whose titles are eponymous with this desire to explore the elementally bounded 'worlds-apart' which islands and island lives represent.
It's perhaps because of childhood encounters with stories such as Robinson Crusoe and Treasure Island that the fascination with islands often hooks writers when they are young. In the introduction to his new book, The Age of Islands, Alastair Bonnett recounts a childhood adventure where he risked flooding his wellington boots trying to ford the gap between the shore and a small island in the middle of a woodland pond. It's a memory that returns to him many years later when he rows out to a small island in the midst of a Scottish loch. Bonnett is now Professor of Social Geography at Newcastle University. His childhood fascination has developed into an academic inquiry which forms the basic premise of this book. But the new dimension which he explores in these pages is characterised by the very particular nature of that small Scottish island, it being a type of island referred to locally as a 'crannog' – meaning an island which isn't a natural formation, but one which has been entirely created by human hands.
In the case of Scottish 'crannogs', many of these islands were created anywhere from several centuries to several thousand years ago. For what purpose they were originally created is now largely unknown. They might well have been defensive, or purely functional, i.e. – as a means of securely penning livestock, or the reasons might have been more esoteric – there is no shortage of theories. But it's this idea that humans have long felt the need to create and shape islands to specific ends which fascinates Bonnett. Hence he embarks upon a journey to visit a number of these artificial islands dotted across the globe, especially as there seems to be a current boom in their creation. From the very exclusive luxury developments off the shores of places such as Dubai and Panama, to the more functional land reclamation schemes of places such as Flevopolder in The Netherlands, or Hong Kong's Chep Lap Kok Airport, to the environmentally and geopolitically controversial creation of islands (mainly by concreting over coral reefs) in the South China Sea by the Chinese Military. Bonnett describes such 'islanding' projects as 'Rising' islands, and he spends the first half of the book visiting (or attempting to visit) them, examining the issues surrounding their creation in detail. The second part of the book looks at the allied efforts to safeguard or prolong the longevity of islands which are 'Disappearing' due to the threat of climate change, which is becoming manifestly real in places as diverse as Tonga in the Pacific to the Isles of Scilly off the UK's Cornish Atlantic coast, and he speculates as to how these two effects of the Anthropocene might play out over time in the future.
It is an engaging book that manages to deftly combine his academic interests with personal anecdotes on the subject of 'islanding.' As such, it can be read as an informed introduction to a broader topic of geographical inquiry, or as a straightforward travelogue focussing on the specific themes that characterise the human fascination and aptitude for creating 'islanded' spaces for various purposes and pursuits, e.g. – financial, political, lifestyle, territorial, communitarian or purely escapist. Islands are destinations and domains, places of dreams and nightmares, both on a personal individual/community and a national/international level – in essence, according to Bonnett, islands can be seen and comprehended as processes (as well as places) embodying our modern era, hence why we live in an 'age of islands.'
---
Tim Chamberlain gained a BSc in Anthropology from the University of East London, and an MA in World History from Birkbeck College, University of London, where he is currently undertaking a PhD looking at Western travellers in East Tibet during the early 20th century, exploring themes of science and empire. He is also a project coordinator for international touring exhibitions at the British Museum. He tweets at @waymarksblog.