Barker, Hannah. That Most Precious Merchandise: The Mediterranean Trade in Black Sea Slaves, 1260-1500. University of Pennsylvania Press, 2019. 328 pages with 18 illustrations. Cloth 2019: ISBN 9780812251548 $79.95 USD. Outside the Americas £64.00 GBP. Ebook editions are available.
By Dr. Christopher Blakley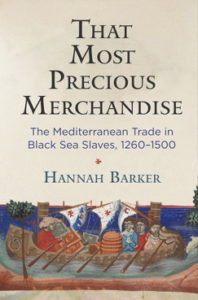 Enslaved people of diverse ethnic and linguistic origins passed through the Bosporus from the Black Sea to the Mediterranean between the mid thirteenth and early sixteenth century. Merchants transshipped Armenian, Russian, Circassian, Abkhaz, Goth, Alan, Kipchak, Tatar, and Wallachian slaves and other commodities from port cities like the Genoese colony of Caffa on the Crimean Peninsula and Tana in the Sea of Azov southward toward Constantinople, and further to points across the Mediterranean Sea. Hannah Barker's study of the Mediterranean trade in Black Sea slaves between 1260 and 1500 bring into focus a "common culture of slavery" produced by Venice, Genoa, and the Mamluk kingdom of Egypt and Greater Syria (p.3). Black Sea slaves were prestige goods, often laboring in households as domestic servants and concubines, and in the military service of Mamluk sultans and emirs. Barker characterizes this culture of slavery as one based on religious differences, and only partially defined through attitudes concerning race. Late medieval merchants did not possess the racial ideologies of early modern slavers, and slavery was not principally organized around skin color. In this period, slavery posed a universal threat to all free people, and the conditions of a person's enslaveability shifted between time and place. Reading Latin sources ranging from notarial registers to tax records, letters, account books, petitions, and trial documents in combination with Arabic materials, especially slave-buying manuals, enables Barker to explore the origins and expansion of these societies with slaves across a multireligious and multilingual geography. Barker's study refutes anachronistic claims within the historiography of slavery from both historians who argue that Christianity had an ameliorating effect that ultimately led to the end of slavery in Europe, and Marxist scholarship that primarily places slavery as the product of industrial capitalism. Barker finds that Christians frequently participated in slave trading, and that slavery found widespread social, cultural, and legal acceptance among Catholics, Orthodox Christians, and Muslims.
Muslim and Christian philosophers such as Thomas Aquinas turned to Aristotelian natural slavery to justify a human hierarchy that situated slaves as inferior living property below their enslavers. Most Black Sea slaves were women, and the materials Barker examines bring to light how slavers articulated the bestialization of their human possessions by legally, financially, and rhetorically equating them with livestock animals, especially horses, mules, and dogs. Race and racial thinking played a role in the Black Sea slave trade. However, physiognomic and cultural factors other than skin color–including allegedly bestial behavior–and other categories of difference such as religion and language determined the conditions of a person's enslaveability. In Mamluk Egypt, laws and custom restricted Christians from owning Muslim slaves, and in the Italian cities Muslims likewise could not own Christian slaves. In both contexts pagans could be enslaved by Christians, Muslims, and Jews. In any of these instances, a slave's conversion to their slaveholder's faith did not entail their manumission. Rather, slaveholders justified forced conversions of slaves as a means to bolster their faith's presence in the Mediterranean.
Slave markets displayed human merchandise as buyers, brokers, and sellers negotiated prices and the terms of sales. Doctors played a role in physically inspecting slaves and certifying their fitness through health warranties. Invasive inspections supported the social reality that the slave's body could be violated for the benefit of free people, and humiliating probes preceded the ubiquitous sexual violence and abuse that enslaved women experienced in both Christian and Muslim states. Despite the dehumanizing nature of slave sales and slavery, Barker points out a unique legal condition of the trade: slave sale contracts included clauses of the slave's consent to be sold (p. 117). Barker raises several hypotheses as to why and how slavers sought the consent of the enslaved. Such clauses remind readers of what David Brion Davis' defined as "the problem of slavery", namely that slaves are simultaneously persons and property.
Political geographic relations between the Italian cities of Genoa and Venice, the Mamluk kingdom, and the Golden Horde–who controlled the territories north and east of the Black Sea trade–shaped the overall structure of this slave trade. In her analysis of shipping networks, Barker discusses how merchants transited slaves via galleys and cogs from Black Sea ports to Mediterranean cities. Slaves joined cargoes of other commodities, such as rice, sugar, and timber, in comparatively small numbers–ranging from a few to two dozen–aboard these ships. Very few slave revolts occurred on ships in the fourteenth century. Revolts leading to slaves running ships aground to later escape on foot, such as a voyage from Constantinople to Syracuse in 1441, were rare occurrences. Slaves did resist their enslavers, especially male slaves who jumped overboard to swim to shore. In addition to slave resistance, slavers encountered difficulties on the sea from pirates, storms, and outbreaks of plague.
Barker's core argument that the Black Sea Slave trade produced a shared culture of slavery among Christians and Muslims that was not predominantly based around race illuminates just how much slavery in the Mediterranean changed in the late fifteenth century as the Ottoman Empire blocked Europeans from established routes of human trafficking. In the decades after the Ottomans conquered Caffa, Europeans turned to North and West Africa for captives to labor on sugar plantations on Cyprus, Crete, and elsewhere before launching out into the Atlantic world. That Most Precious Merchandise is the result of meticulous research conducted in repositories in Genoa, Venice, Cairo, and other archives, and Barker's book contributes to our understanding of the shifting nature of slavery between the late medieval and early modern periods. Barker productively contrasts the evolving role of race and the mutable nature of slavery between these periods, and makes use of scholarship from very different contexts to interpret her sources, including classic studies on Caribbean plantations and the antebellum United States. Further explication on the value of reading these works alongside medieval sources and historiography could have clarified the uniqueness of the Black Sea trade. Historians of slavery will nevertheless appreciate Barker's book for their illuminating narrative of late medieval slavery and slave trading.
---
Christopher M. Blakley is a lecturer at Occidental College and Loyola Marymount University.