ADM 234/325 – Battle Summaries No 9 & No 10. Battle of Cape Spartivento & Air Attack on Taranto. 1940
&
ADM 234/326 – Supplement to Battle Summary No 9. Italian Account of the action off Cape Spartivento, 27th November. 1940
"Though it has been said that the god of battles prefers to be on the side of big battalions, and that numbers only can annihilate, fortune favours the brave in war; and there were opportunities to be found by daring leaders of reducing the disparity by well-timed operations with flotillas and submarines before all was staked on a fleet action."
Lord Chatfield, The Navy and Defence.1
A book review is an easy thing to start, either it is read and liked or it is read and found wanting; applying the same approach to a document though would seem churlish, whilst it's necessary to consider source, context, clarity, bias and the most important 'X factor' – are there any drawings? It is not really a matter of liking it or not, it's a professional matter of making use of it. So in theory, for a properly dispassionate professional historian this should be a particularly difficult challenge… in reality historians are human too and of course each has favourite documents. So whilst the quotation above will be revisited later, it is now time to focus on the documents, originally complied by Training and Staff Duties Division, (Historical Section) of the Naval Staff at the Admiralty but now preserved at the UK National Archives, at Kew, which are the subject of this paper.
The Royal Navy, despite having an almost institutional distrust of staff work for much of its existence, produced these exceptional documents called Battle Summaries. These documents then go through many drafts as more information becomes available, with the RN seeking as wide a plurality of sources as possible in order to really maximise the accuracy; Battle Summary No 9 is perhaps the best example of this, as they went so far as to include not only the British side, but also the Italian commander, Admiral Campioni's, perspective. These documents were as such positioned to provide generations of RN officers with the opportunity to gain a greater understanding of the mind sets of both sides in the contest.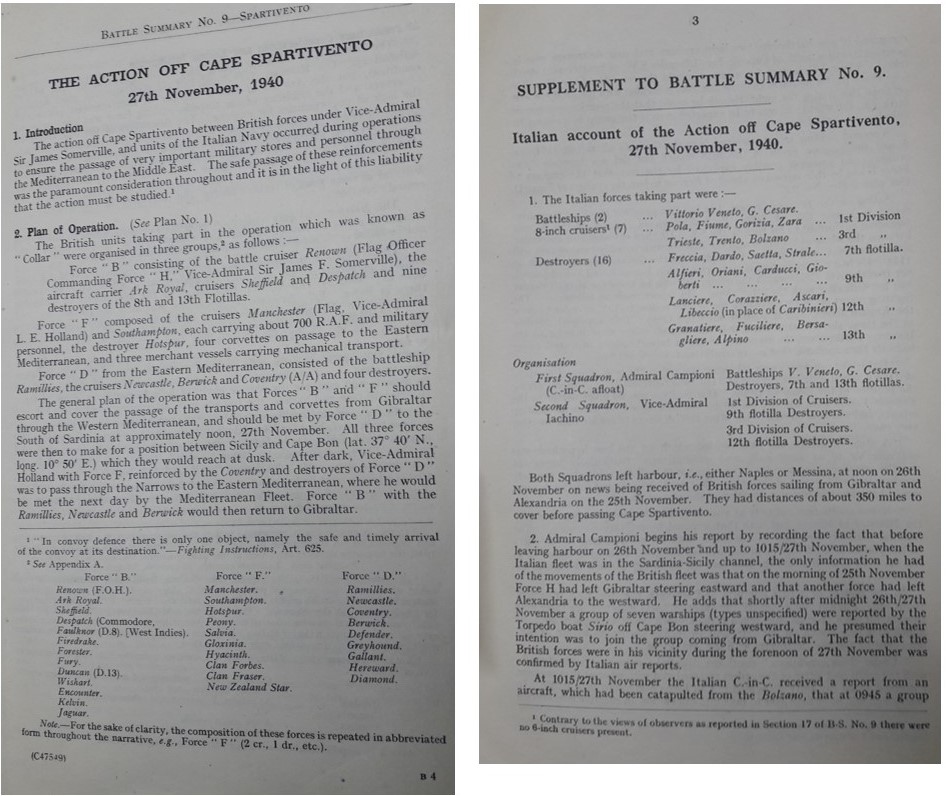 Image 1. The Opening pages of ADM 234/325 & ADM 234/326 show their perspectives clearly, one listing the RN forces involved the other the Italian Naval strength
Thankfully, despite Admiral Somerville being involved, and unlike his diaries, these documents are not only legible – they are a pleasure to read. In fact it is almost possible to lay them out side by side and read the battle unfolding from both sides. In part this is thanks to the structure used throughout, but also there is a conscious effort as these documents are part of a series the whole purpose of which was to provide for the education of future officers. The Battle of Cape Spartivento (or Battle of Cape Teulada as it's called in Italy) is a 'good' operation for this, as it has such contrasting strategic context and the battle itself from both sides is such a missed opportunity.
The principle contextual factor was that Cape Spartivento took place sixteen days after the Taranto attack had crippled a majority of the Italian Battle fleet; so the Italians were trying to prove they were still an offensive force and the RN were seeking to assert and use the 'superiority' that that operation has 'secured'. However, the forces that confronted each other were not that different in strengths. The big advantage for Somerville was having a carrier, HMS Ark Royal as part of his force – providing him crucial organic air power.2 Campioni's asset was that with comparable global commitments he had achieved the kind of homogeneity of force (built around two technologically quite modern battleships) which RN should only have dreamt of.3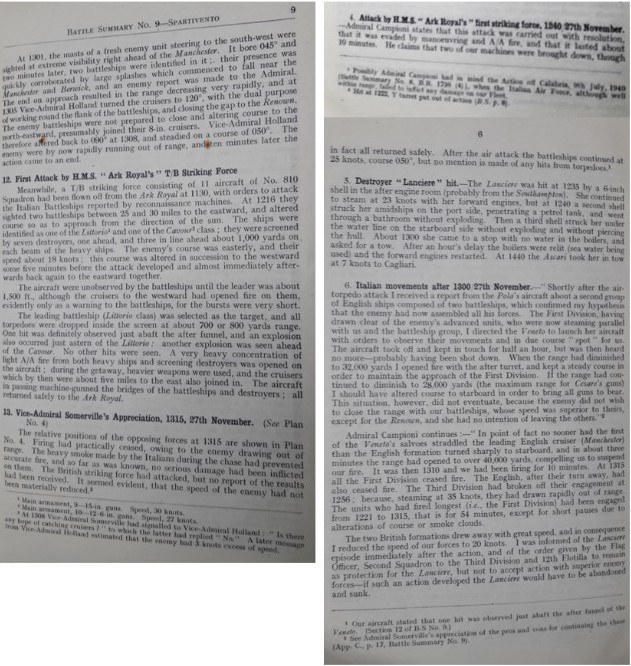 Image 2. Further in ADM 234/325 & ADM 234/326 give both sides of an air attack from HMS Ark Royal – putting into context the real time experience of an air attack from both sides.  
Still Ark Royal was not Somerville's only ace, four modern Town class 6in light cruisers, HMS Manchester, HMS Newcastle, HMS Sheffield and HMS Southampton, provided the bulk of his cruiser strength4. As such, even though Campioni's cruiser strength was provided by six 8in heavy cruisers (three each from two classes) RN Fiume, RN Gorizia and RN Pola of the Zara class, which were deployed in conjunction with RN Bolzano, RN Trieste and RN Trento – the lead ship of this class.5 It is arguable that it Somerville who had the advantage in cruisers, Town class being excellent vessels designed deploy the maximum amount of high explosive at an engagement ~19,000yards (roughly 18km/10 nautical miles) as quickly as possible thanks to 12 rapid firing 6in guns mounted in four triple turrets – perfect for a battle where most of the fighting took place within ranges less than 10 nautical miles.6 Furhtermore, both forces had similar numbers of destroyers and whilst the RN forces were tasked with protecting a convoy, they had advantages in terms of intelligence received which offset this commitment and allowed them to intercept the Italian force far away from it.
This all meant that this was a battle, where to reduce Lord Chatfield's quotation to a single line, 'there were opportunities to be found by daring leaders of reducing the disparity'. This now shows the quality of the work that went into this document and the importance that was attached to education that could be drawn from it, it admits that the British were as much at fault for this as the Italians. Campioni, was as the documents both make clear, hamstrung by the rules of engagement established by the political command; Somerville by the necessity he felt to prioritise the convoy and resupply of Malta. Both officers would face censure for the perceived lack of aggression, Campioni losing command of the fleet not long after and Churchill insisting on Somerville facing a board of enquiry – there was no repeat though of Admiral Byng, Somerville was found innocent of lacking an offensive spirit and went on to command in the Indian Ocean.7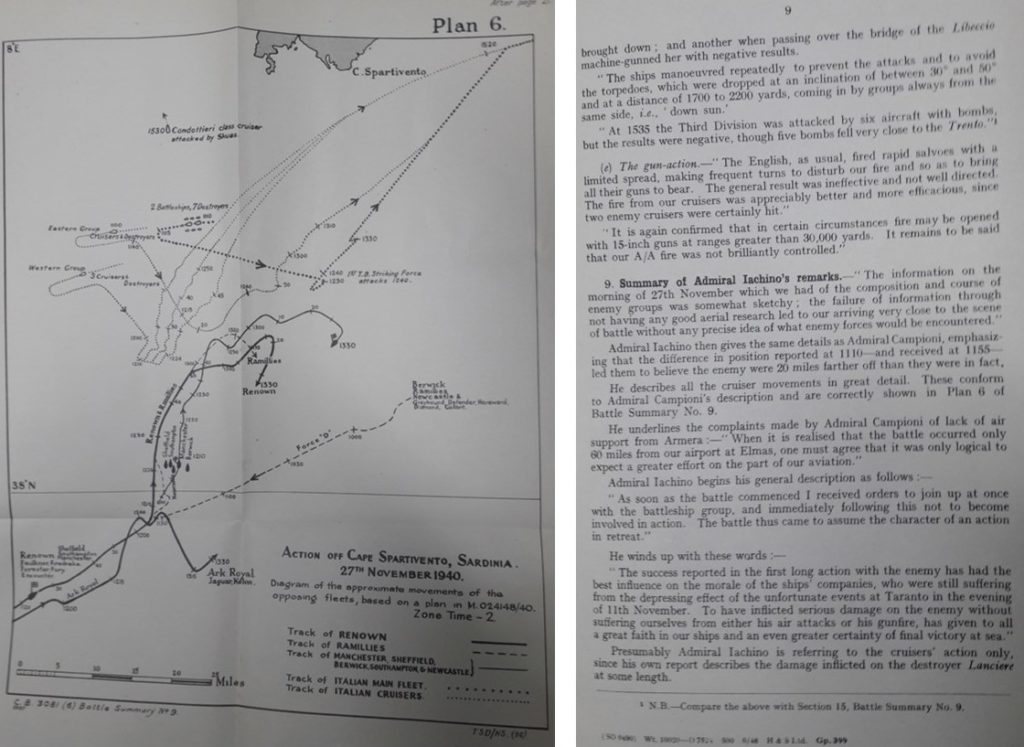 Image 3. Maps are definitely the bonus of ADM 234/325, but for ADM 234/326 it's the fact that it has analysis from both Admiral Campioni and Admiral Iachino within its bindings.  
Image 4. The list of sources used by the Training and Staff Duties Division, (Historical Section) of the Naval Staff at the Admiralty in compiling ADM 234/325 & ADM 234/326 
So probably any historian who knows about these documents spends way too much time with them – they are just such foundational research documents for any battle covered by one. Every sentence provides the reader with another layer of information, another opportunity to search for even more relevant material, another chance to build a more holistic and all-encompassing picture. In addition because they are repositories of primary experience, as well as very frank and balanced analysis they reveal more than just their contents. They show the nature of the British naval culture in the period, they show a thirst for knowledge, a desire to improve outcomes no matter the cost to personal reputation and a desire to implement, utilise and battle prove new pieces of equipment with a quickening pace.8 Thereby as they are written these documents provide a very different image of Admirals from the battleship-obsessed, out of touch, tactically moribund officer class often portrayed as such in popular media. The truth is, as shown through all the dozens of battle summaries, this was a class of officers who were keen to learn, improve and adapt to changing circumstance – something that was done as quickly as resources allowed.
Bibliography
Armoured Carriers & Associated, 2018. Britain's 'Midway'; Operation C: The Battle for Ceylon, April-May 1942. [Online]
Available at: http://www.armouredcarriers.com/battle-for-ceylon-hms-indomitable-formidable/
[Accessed 08 December 2018].
Clarke, A., 2018i. Royal Navy Cruisers (1): HMS Exeter, Atlantic to Asia!. [Online]
Available at: https://globalmaritimehistory.com/royal-navy-cruisers-1-hms-exeter-atlantic-asia/
[Accessed 30 March 2018].
Lord Chatfield, 1942. The Navy and Defence; The Autobiography of Admiral of the Fleet Lord Chatfield. London: William Heinemann ltd.
TNA – ADM 234/319, 1941. Battle Summary No 4; Naval Operations off Crete. London: United Kingdom National Archives(Kew).
TNA – ADM 234/320, 1941. Battle Summary No 4: Naval Operations off Crete. London: United Kingdom National Archives(Kew).
TNA – ADM 234/325, 1943. Battle Summaries No 9 & No 10. Action off Cape Spartivento & Mediterranean Operations (4th to 14th of November 1940). London: United Kingdom National Archives(Kew).
TNA – ADM 234/326, 1947. Supplement to Battle Summary No.9 – Italian account of the Action off Cape Spartivento, 27th November, 1940. London: United Kingdom National Archives(Kew).
TNA – ADM 234/329, 1941. Battle Summary No 14. Loss of Prince of Wales & Repulse. London: United Kingdom National Archives(Kew).
TNA – ADM 234/330, 1941. Battle Summary No 14(Revised). Loss of Prince of Wales & Repulse. London: United Kingdom National Archives(Kew).
TNA – ADM 234/331, 1942. Battle Summaries No 15 & No 16. Ceylon & Diego Suarez (Operation Ironclad). London: United Kingdom National Archives(Kew).
References