The editors extend our compliment and thanks to Lucy Bellwood, for this comic guest blog. Lucy addresses some of the most important concerns for drawing ships.
I'm the tall ship sailor-turned-cartoonist behind Baggywrinkles: a Lubber's Guide to Life at Sea, and I thought I'd chime in here on British Naval History with a couple art tips for those of you who are looking to draw more accurate vessels in your stories and illustrations!
I often get questions from people who are concerned that their illustrated boats aren't going to be up to snuff, and the short answer is generally: don't sweat it. If you've drawn a thing that has a hull in the water and sails in the air, you're off to a great start, and if you consult a few handy reference images, you're bound to end up with something that looks mostly ship-like.
HOWEVER. There are a couple things that often get lost in translation which—if you pay attention to them—can make the difference between a passable tall ship and a vessel that definitely looks like you know your baggywrinkle from your bunghole. Here's two tips to get you started.
Flags in the Wind
Generally when we think of a thing that's going fast, we imagine a flag streaming out in the wind behind it, right? Well, when it comes to square rig sailing, things aren't always so simple. If the wind is coming up from behind a ship—or from the side—to push it forward, the flag may be flying in a direction you wouldn't expect! How are the yards angled to catch the wind in the sails? What's driving the vessel forward? Sailors often look to flags for a quick indicator of wind direction—use that thought process when drawing your ships.
Keep Your Shrouds Tight!
Those rope ladder-looking things sailors are always clambering up? They're called shrouds, and they also form a large part of the tensioning system that keeps a ship's masts stable and upright. Stays (lines that don't move i.e. stay put) are arranged throughout the rig to maintain even aft-to-fore pull on the masts and prevent them from keeling over. Shrouds form the lateral component of that system, so here's an important fact: they will not be saggy. No saggy shrouds. No saggy stays. In addition to making the mast unstable, it'd be a devil to climb in heavy weather.
Note: the ratlines (the "ladder rungs" of the shroud) can have slack in them—it's the vertical lines that should be tight.
When the crew is "tuning the rig," they're putting slack in all the stays and then re-tensioning them to ensure that the whole operation is as stable as possible, so unless you've got a bunch of idiots running your fictional vessel, keep 'em tight.
And another thing…
I see a lot of people running their shrouds down to the deck, rather than alongside the vessel. Don't do that! I mean, okay, sometimes shrouds do attach to chain plates on-deck, but most of your classic Golden Age of Sail vessels will have them running alongside to the channels. Also: they end in deadeyes to help with the tensioning of the line and to keep things stable, so don't forget your deadeyes!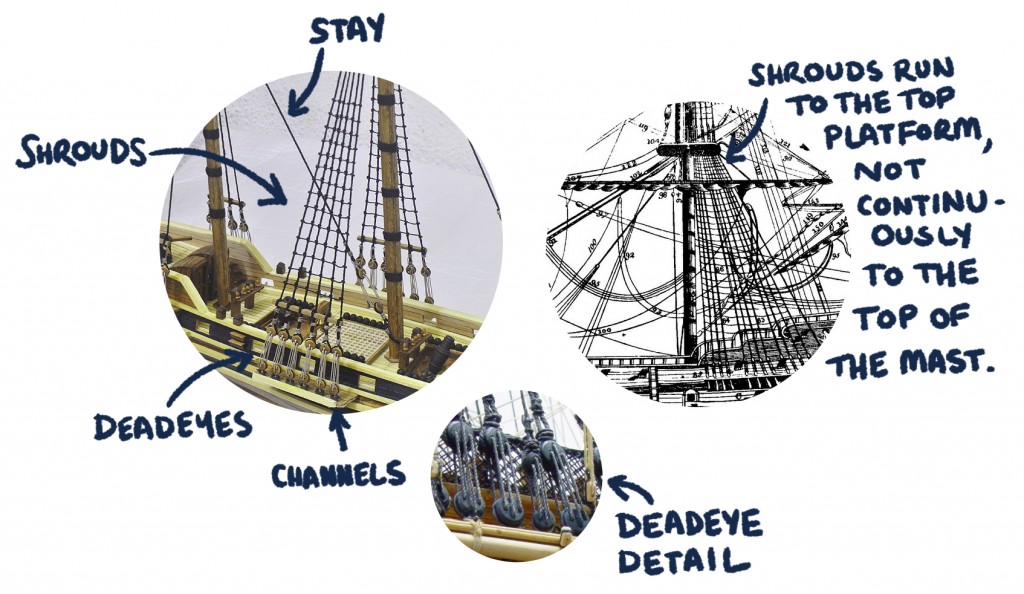 Honestly, these are the two biggest things that I see artists flub when drawing tall ships, so if you can keep them in mind, you'll be head and shoulders above the rest!
If you're looking to go more in-depth with your research, I would recommend…
Seeing if you can find a modern replica of the type of ship you're after and then centering your reference search around the name of that ship. I get far more extensive results when I'm searching for "Privateer Lynx" rather than "1700s topsail schooner." Don't discount the many photos tourists will have taken while visiting these ships!
Nose around on model ship-building forums. There is no greater boon to the modern nautical artist than these obsessive craftspeople, who will spend hundreds of hours replicating classic ships in minute detail—often photographing the whole process so you can actually see how the rig of a vessel is put together! God bless 'em.
And that's all I've got! If you have any addition questions, feel free to say hello on Twitter or check out my website. I hope you've enjoyed this brief foray into accurate tall ship representation. Fair winds and following seas!