A few weeks ago, I came in for some overtime to help move the City's oldest ferry, Trillium from drydock. The Trillium built in 1910 at the Polson Iron Works in Toronto, for the Toronto Ferry Company. Eventually taken over the by the City of Toronto, it is the last side-wheel paddlewheeler in the Great Lakes. It has been out of service for some years, and last received a major refit in 2017. It was in Drydock this year for the Transport Canada required 5-year survey. Unfortunately, due to technical difficulties, we were not able to do the get the ship moving but I was able to get aboard and take some photos. Here, I present some cool photos of the only working steamship and paddlewheeler that I've been aboard.
Here you can- just- see the Trillium behind Toronto Drydock's Coastal Titan, formerly a heavy-lift ship but now a barge. (It still has the main machinery aboard, for working the cranes).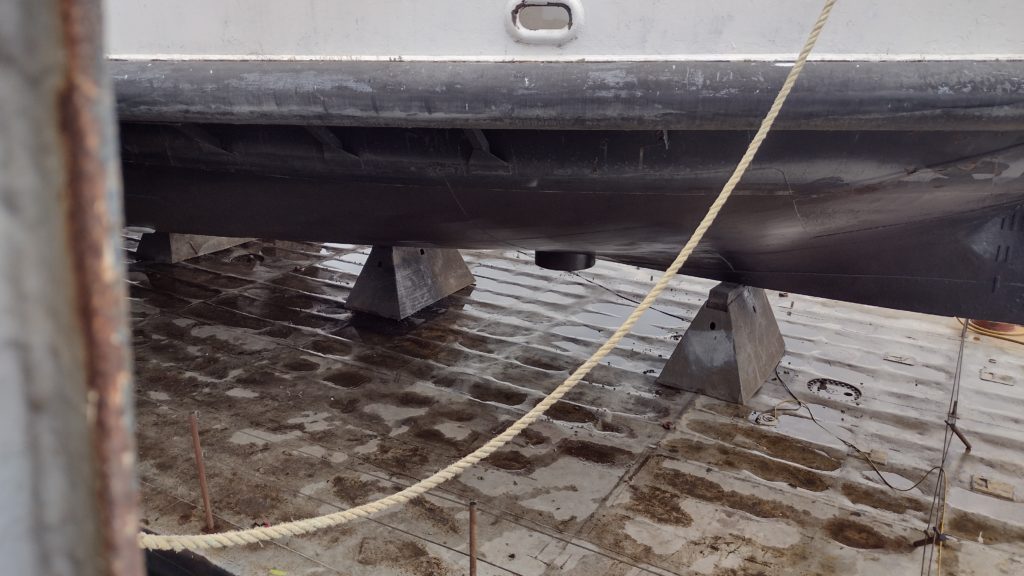 Here you can see how the Trillium was placed on top of blocks on top of the barge, which was going to be lowered into the water so that the ferry could float away. It's rather impressive (but what Toronto Dry Dock does on a regular basis). The cylinder projecting from the bottom of the ferry – visible in the centre of the photo is one of the Trillium's thrusters- one for the bow, one for the stern. These were not original, but a later refit effectively required as the Trillium is slow, and very large- and as the two sidewheels are geared together- so when you don't have steerage way, and when there is any kind of wind, it is very difficult to steer.
One interesting aspect of the Trillium is that the main engineering station is actually on the main passenger deck, in a central area. The Engineer operates the gears and the machinery from there, in full view of the passengers. Further, large parts of the machinery are in full view- and can even be touched (although I would strongly suggest against, while moving). This is very different from most ships where the Engineer's primary workspace is hidden away from everything else. There are two telegraphs because each wheelhouse has its own telegraph system.
Here's an internal (also from the main passenger deck) and external (standing aboard the Coastal Titan) view of the side paddles. They are constructed from mahogany and steel, and during this refit they replaced several boards on the port side, luckily the City had mahogany in storage from the last refit.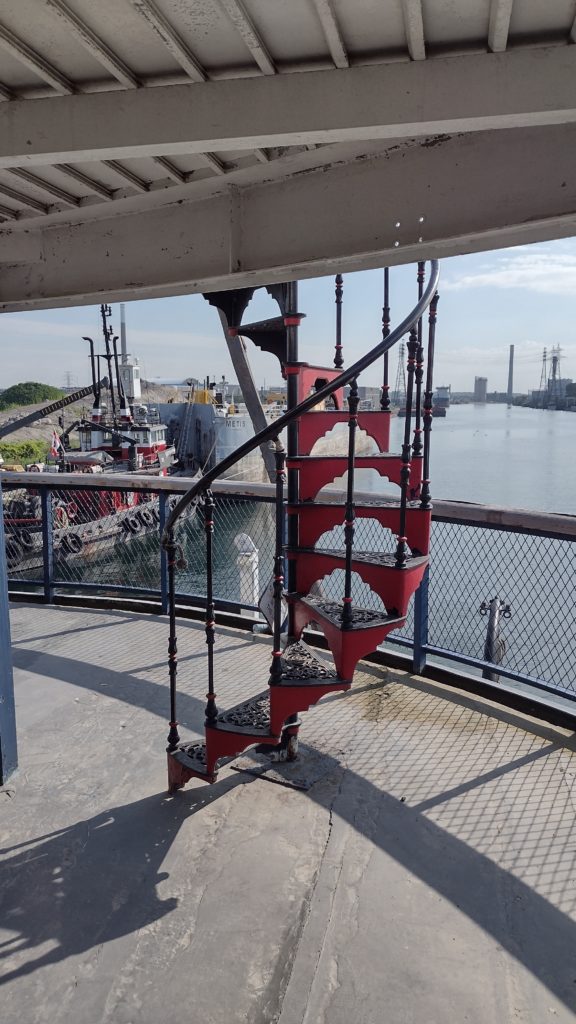 This is one of my favourite features, the spiral staircase from the upper (promenade) deck to the top (crew only) deck with the wheelhouses.
In the next blog post, I'll share some photos from the engine room.