After a long abeyance, The Academic Podcast returns with a series of podcasts this summer that will feature interviews with creators and artists. We begin this series with an interview with Katie Marie Bruce.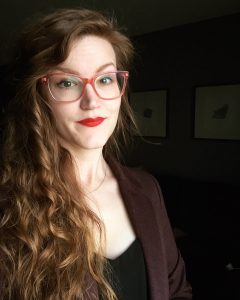 Katie Marie Bruce is an artist and educator living in Lethbridge Alberta. A recent MFA grade of York University, Katie's practice often includes print, textiles, and sculpture. Her SSHRC funded thesis project examined empathy, the affective/affected body, and the intersection of emotional and non-performative labour of objects. Her practice is currently split between two projects: a body of print and embroidered work which look to give visual vocabulary to her somatic experience of anxiety; and a series of letters that explore shelved feelings, those of love and grievance. She has shown, presented and participated in residencies across Canada.
In this discussion, Katie and I talk about art and process, anxiety, the role of the audience, the impact of social media on her work, and also about teaching. I owe Katie a huge debt of gratitude, and I very much hope that we'll do another interview in the future.
length: 45'56".
As a warning: it is a bit loud so turn down the volume when listening.
For reference, this was the image from Samuel Pepys I refer to in the podcast.