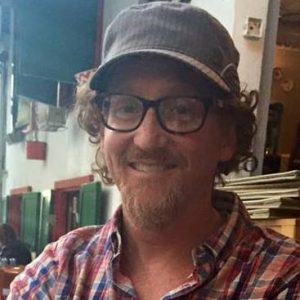 Dr Peter Cole is a professor of history at Western Illinois University, USA. He also is a Research Associate in the Society, Work and Development Institute (SWOP) at the University of the Witwatersrand in Johannesburg, South Africa. He tweets from @ProfPeterCole
Despite researching and writing about dockworkers for twenty-five years, I rarely identify as a maritime historian. That is because when I read journals focusing upon maritime history, when I look at the "call for papers" for maritime conferences, when I visit maritime history museums, even when I browse this (admirable) website, it seems that the field actually ignores enormous parts of maritime history.
Instead, it seems that the "official" field of maritime history is all about naval warfare, ships (warships, especially, but also merchant ships), and the age of sail. Indeed, commercial shipping in the steamship era, sailors in the 20th century (before and during the rise of containers), dockworkers on the job and off, and all of these groups' connections to the world that most humans occupy most of the time—the land—are largely absent from maritime historians' purview. It is like the world is flat and maritime historians never dare look beyond the familiar for fear of falling off the end of the earth. Obviously, I am exaggerating but not so much.
While I respect folks who study naval history, the history of ship technology, and the like, I am advocating for a much "bigger tent" for maritime history. I also am mindful that I am hardly the first person to make such a plea. In fact, the very first conference that I presented upon, in 1995, was a thematic one entitled "Race, Ethnicity, and Power in Maritime America," sponsored by the wonderful Mystic Seaport, in Connecticut (USA). And, yet, the field does not seem to have fully incorporated such subjects nearly a quarter-century later.
I wish to engage with and be recognized by my fellow maritime historians because I believe that the subject of my research to be of immense relevance to the maritime world. I study marine transport workers in port cities who were—and remain—of tremendous import to all people who live in port cities and the landlubbers of the interior. Shipping has been vital to the economies and cultures of peoples for millennia, even more since the European Age of Exploration began. As Alice Mah began her recent book, "many scholars have underestimated the continuing significance of material support trade [shipping] to global capitalism. Ninety per cent of the world's trade [still] is transported by sea."i Similarly, I regularly tell my students that globalization hardly began in the 21st century.
I wrote my dissertation and first book on a group of dockworkers (called longshoremen in early 20th century America) in Philadelphia, the third largest city in the United States and one of its leading ports. There, employers cleverly had engineered a workforce approximately one third Irish and Irish American, one third African American, and one third East European. As students of U.S. history know, the country's incredible ethnic, national, and racial diversity has been used, time and again, as a club to beat worker movements down. However, the Industrial Workers of the World—a revolutionary, anti-racist union—successfully organized this diverse workforce to improve workers' lives as well as advance a radically egalitarian agenda.ii
Of course, other maritime historians, including Peter Linebaugh and Marcus Rediker in their wonderful Many-Headed Hydra, have written about the diverse world of shipboard workers as did novelists from Herman Melville and Claude McKay.iii Alas, Linebaugh and Rediker seem to remain the exception that proves the rule as maritime history rarely includes such voices—and, when it does, it focuses, as they have, upon the early modern era.
My current research employs comparative and transnational methods to examine militant dockworkers in the San Francisco Bay Area and Durban, South Africa from the 1930s into the 21st century.iv This book explores three main themes: how dockworkers used their power to promote racial equality in their cities and nations; how they used their power on behalf of struggles for liberation and democracy in other countries (i.e. transnationally), and; how dockworkers retained some power despite the intention of employers to introduce a new technological process—containerization—to weaken workers along with increase productivity. In other words, while unions generally exist to assist their members, I study how organized maritime workers used their power—as dockworkers—for social justice in their cities, countries, and beyond.
My research interests have taken me deep into port cities and politics, writing for scholars and general audiences. I have written about how San Francisco dockworkers invested their pensions to build working-class cooperatives and demanded that they be racially integrated for JSTOR Daily, an online magazine of a database. I have written about the legendary artist-activist Paul Robeson who collaborated with Black Dockworkers to promote Pan-Africanism for the African American Intellectual History Society. I have written about Bay Area Dockworkers engaging in political boycotts to protest the inauguration of the current U.S. president for an online news magazine, In These Times.
Does my research "count" as maritime history? Obviously, many historians have written about the propensity of (dock)workers in ports alongside the proverbial seas to organize themselves, via strikes and unions. Indeed, in 2000, the International Institute of Social History coordinated an impressive two-volume anthology that explored the particular histories of dockworkers in many ports as well as in thematic ways.v Alas, that excellent collection consciously stopped with the advent of containers, generally treated port histories in isolation from each other, and almost entirely ignored the Global South.
Fortunately, of late I joined a small community of maritime labor historians. Formed in 2015 as one of the working groups of the recently created European Labor History Network, I had the chance to participate in the first of the network's biennial conferences. Nevertheless, even among these thoughtful scholars, most focus upon sailors (not dockers or ports) in times preceding the 20th century. Notably, this working group emerged among labor historians and not maritime historians.
In the United States, I find that historians who study labor, social movements, race relations, cities, and technology all are interested (thankfully) in my research. So, too, those who study South Africa or who are interested in transnational and/or comparative methods.
While I thoroughly enjoy engaging with historians and other scholars across these many fields, I would love to engage more fully with my fellow maritime historians, in particular about the vital issue of containerization. Arguably, containerization is the single most important factor in understanding the explosion of global trade since the 1960s. Fair to label a revolution, this technology has influenced myriad other aspects of global life in the past fifty years and will continue to do so for the foreseeable future. Maritime historians should embrace this opportunity to place themselves at the epicenter of discussions in world or global history as well as in making their case for relevance in the histories of specific countries and regions.
Many maritime historians will recall, the Dutch-born, Australian-based Frank Broeze wrote on containers. As described by the Australian National Maritime Museum, Broeze was pivotal in "helping to redefine the field in broader terms than ships, sailors and sea power. He reached into economic, business, social and urban histories to make maritime history truly multidisciplinary." I consider myself following in his footsteps as he passed away in 2001. Alas, I do not see many other maritime historians walking down this path.
Instead, the economist Marc Levinson's well-told The Box: How the Shipping Container Made the World Smaller and the World Economy Bigger is the most important book of what, really, should be treated as a maritime topic.vi Similarly, the visionary artist Allan Sekula made waves with his brilliant photography book, Fish Story, and did it again in his collaboration with Noël Burch in their documentary film The Forgotten Space.vii
In short, we wear many hats and should proudly show them. When we write for our fellow historians or the general public, when we collaborate with public historians at maritime museums and the like, we need to make the strongest case for our relevance. Maritime historians should be leading the investigation of the history of containerization. So, too, we should be more fully engaging with historians who study (port) cities around the world. We should be collaborating with labor and other social historians that abut the seas that we are fascinated by and research. That is why I appreciate the opportunity to write this essay for the newly-reimagined Global Maritime History website. I look forward to more and deeper collaborations with other maritime historians.
References