Kia ora. The second museum that we visited was Toitū Otago Settlers Museum, in Dunedin. I will admit I was dubious, with the title 'Settlers Museum'. But this is New Zealand, and things are mostly better than they are in Canada. The museum itself is right downdown, next to the train station. In fact, part of the museum (the section with the Transit vehicles) used to be the City's art deco bus station. The museum has been substantially renovated recently, and re-opened to visitors in 2012 with its current name.
The Entrance is a large, open atrium that features the museum's shop, a space for event, and their café. It also houses the E class Fairlie steam locomotive Josephine, New Zealand's oldest preserved steam locamotive. This is a lovely light area, and it was fairly busy while we were there. However, it was very easy to move around and very accessible for those with strollers and with children. (We did this tour with an 8 month old toddler).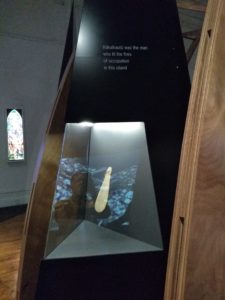 The first exhibit, quite rightfully, is dedicated to Otago and Dunedin's Maori history. They have a number of fantastic artifacts, and provide a persuasive display of community and belonging before the arrival of Europeans. They show a community that was of the land, and and of the sea, but also one of rivers and marshes and the environment of as a whole. The use of Māori/ te reo through the displays just emphasizes that there is a history of Dunedin and of Otago that wasn't created in English. This also very much sets up a dichotomy with the later, more traditional "western" galleries but highlights just how much Pākehā culture and identity overwhelmed much of what existed.
Following these galleries we move to more "traditional" settler-colonial displays. However, these are absolutely fascinating and the museum has gone to great lengths to do a good job with them.
One of the highlights is the portrait room. Each of the walls of this room looks like the one to the left, and they are absolutely full of portraits. So many that it would be extremely difficult to get up and see them closely and in detail. Thankfully, the museum has provided a digital display so that visitors can view more closely the smaller groups of portraits, and access much more information than would be possible to put on the walls.
Further, the Museum does do a good job of attempting to address some of the inequalities of the available archival materials. For example, the provide displays of whakapapa, in order to help discuss the intermarriage of Maori women and new colonial settlers, as very few portraits of Maori women survive.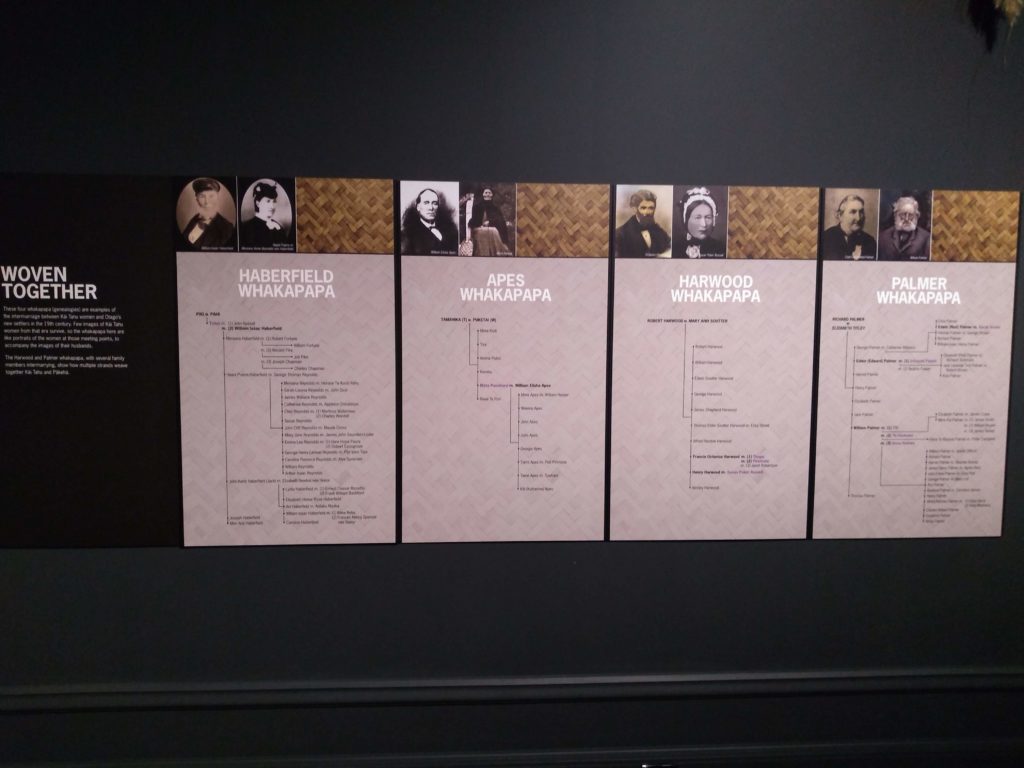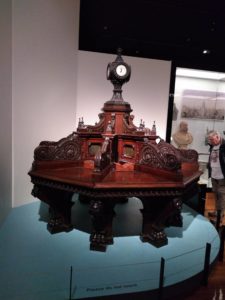 The Museum is set up effectively as one, very long single floor/display level, making it very accessible. It also means that it has space for several very interesting displays, and that the museum does have a rather linear feel to it. There are an amazing number of really interesting artifacts, such as this former banking desk.
Also notable is the extensive fabric, fashion and textiles collection. Unfortunately, all my photos of that section are fuzzy but the museum's website has an excellent tool for exploring its collection.
The museum also has an archives and research centre, between those galleries and the transit and machinery galleries in the former bus station beyond. Unfortunately, as this was only a short vision I was unable to have a look at the catalogue or explore the holdings but again I would refer you to the museum's website.
The museum incorporates the ticket hall of Dunedin's former train station, as well as the former bus station. As a result there is some delightful art deco architecture in the middle of the museum.


Beyond that lies some of the Museum's more open spaces and its transit vehicle holdings. There are some fabulous ones, including a 'Tiger Tea' city bus. Unfortunately again my photos are too fuzzy to share but I'll end with a couple of the better ones. I am very glad that we visitedToitū and I would very much encourage anybody who visits Dunedin to spend a few hours there at least.