This is the first post in a new series. As a result of his employment working on tugboats on Lake Ontario, Sam McLean is able to see, and take photos of commercial traffic working the Great Lakes. These posts will contain photos of ships, but also interesting things, sights, activities and aspects of working in the maritime profession in Canada.

Oshawa
Oshawa (about an hour east of Toronto) is a port that's getting busier and busier. Ships that stop in there deliver products like construction steel, asphalt stabilizer, and cement. It's a fairly difficult port to get into, for reasons which I'll show in next week's post. Prior to this week, my experience had been that two ships in Oshawa was a busy port. However, this week there were no less than four ships!
Here we have the Aragonborg, which belongs to Wagonborg. The Wagonborg ships are salties- they come from outside the Great Lakes. In terms of Salties, however they generally are on the smaller side. Although, Aragonborg is larger than most of the Wagonborg ships I've seen. They always tie up on the Western pier, and they carry a fabricated/structural steel cargo- very large members for construction or similar purposes.
Here we have the tug Leo M. McArthur and the barge John J. Carrick. They arrived and departed Oshawa without our help. They're actually owned by McAsphalt, which is neighbours (across the basin) from Ocean Towing in Hamilton. She had a cargo of asphalt stabilizer.
This is the NACC Quebec, which we also assisted into Oshawa-  which was particularly tricky because she was berthed on the outer half of the Eastern pier, which is difficult given the shape of the channel. Later, we used the Laprairie to tow her out by the stern. The Quebec entered service with NovaAlgoma Cement Carriers in 2017, and belongs to the same company as the Argonaut, which often spends its winters in Toronto.
Here we have a bonus photo of the Strandja, which was the fourth ship in Oshawa. Like the Quebec, she tied up on the eastern pier. I'm not sure about her cargo. However, her departure was delayed for a day or so by rain. I've included this photo of her leaving Oshawa rather than arriving because it's a pretty beautiful shot, and it was a lovely morning.

Toronto
When I was growing up, I considered Toronto to be a dead port- one where the only way we'd have freighters visit is when they'd be tied up for the winter. However, things very much have been changing. For example, 5 or 6 Wagonborg ships have visited Toronto that I've seen since the opening of the St Lawrence Seaway in March. However, that's not true- and the Redpath sugar refinery is frequently visited by ships during the summer. Here we have a photo of the Whistler. My crew helped her both in and out of the port. What's interesting about the Whistler is that she and her sister ships ar
e named after types of ducks (another example is the Shoveller)
Here we have the Victory II, an American cruise ship which has visited Toronto at least twice this summer. This seems to be a new type of business, and it's really interesting to see her in the port.
This is the Iron Guppy, the tugboat run by PortsToronto. There's a lot happening in Toronto these days, and the Guppy keeps quite busy.
Hamilton
Here we have the Federal Margaree, in Hamilton harbour. Fednav is one of the companies that we work with the most often in Hamilton harbour- and their ships usually have either one or two tugboats (depending on the conditions and pilot). Many of these ships are named after rivers, for example the Federal Elbe, Federal Rhine and Federal Schelde, all of which have visited Hamilton in the past few weeks. Often, they'll go to the anchorage if there isn't a pier available for them. They are bulk cargo carriers.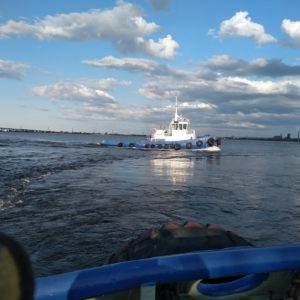 Our last photo for this post is of one the tugboats I work on. Here is the Ocean Golf. She was orignally built in the 1950s, and was dramatically rebuilt more recently by Ocean to make her look and feel like one of the modern Azimuth-drive tugs they use in Quebec. She is equipped with two diesel engines and twin screws, and is the longest of the Ocean tugs in Hamilton at 103 ft. She has a *very* long working deck, and the most spacious engineroom of the three tugs in Hamilton. However, her accomodations are quite limited (two cabins) and the galley/mess is directly below the wheelhouse.