Douglas Hamilton and John McAleer eds., Islands and the British Empire in the Age of Sail. Oxford University Press, 2021. $85.00 Hardcover, 240 pages, ISBN: 9780198847229; also available as an ebook.
by Daniella McCahey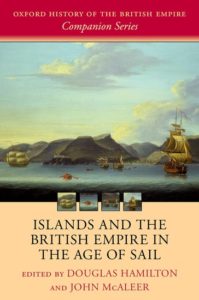 A recent entry in the Oxford History of the British Empire Companion Series, Islands and the British Empire in the Age of Sail consists of several short chapters which place islands within the context of the British Empire as a whole. In some ways, this is an obvious topic, as the editors themselves write. British identity as an 'island nation' looms large in the historiography. Further, texts abound on the histories of imperialism on many islands around the world. But one of this book's major interventions is that the contributors work to situate islands within the context of the British empire as a whole, focusing on how islands were strategic nodes of empire, sites of inter-European conflict, and how islands were treated as ideal laboratories for imperial science.
Stephen Royle's chapter considers the varying roles that islands could play in the early British Empire. Islands were typically seen as safe havens, ideal for repair and replenishment as well as navigational markers over the course of long voyages. But they could also be dangerous, either due to violence coming from other Europeans or from the islands indigenous peoples. The landscape could also be dangerous, as navigators wrecked on unknown shoals. James Davey turns from long voyages to British control over European islands. Great Britain's interest in these islands, especially in the context of the Napoleonic Wars, were less concerned with commercialism or knowledge acquisition, and more about territorial and geopolitical strategy. If islands in the Mediterranean, Baltic, or North Seas were not geopolitically useful, the empire typically let them go with little fuss.
Michael Jarvis's chapter is a comparative study of Newfoundland, Bermuda, and the Bahamas, what he defines as the western north Atlantic islands. All three islands, despite having radically different environments, were appealing for commercial exploitation. Newfoundland become a white settler colony, largely focused on fishing. Bermuda, previously uninhabited, was rapidly settled by white Puritans and enslaved Africans. After a few generations, the population of Bermuda outstripped its resources, but Bermudians then had been come highly sought-after experts in colonizing America environments. The Bahamas, with its dangerous reefs and its soil of middling quality was largely occupied to prevent its acquisition from other powers; powers which were largely also disinterested. The three islands took on new and interconnected significances during the American Revolution.
Douglas Hamilton looks at the Windward islands of the Caribbean, considering them as an archipelago, rather than separate colonies. He contends that Barbados, St. Lucia, Grenada, Trinidad, and Tobago were deeply interconnected; Edenic paradises which were rapidly developed for economic production. As such, conflicts elsewhere, such as between Britain and France or France and Haiti or between enslaved men and enslavers, rapidly reverberated through the Windwards, exposing the fractured and sometimes fragile name of empire. John McAleer's chapter moves to the eastern Atlantic; islands typically associated with the Iberian Peninsula like the Canary Islands, Tenerife, and Madeira, as well as the South Atlantic St. Helena and Ascension. These islands could be economic hubs in their own right, such as the wine trade at Madeira, but also vital strategic sites for travel around the Cape of Good Hope in sailing ships. They also were important places for scientific research, particularly for the gathering of botanical specimens.
Sarah Longair takes us further east, addressing Great Britain's western Indian Ocean colonies. This was a region too where the productivity of the islands was generally a secondary concern, after their strategic value. Like islands in the South Atlantic, their value initially came as connection points between Europe and Asia but were also useful sites for scientific research. Though colonial governments tried to make the colonies exploitable, the fragile island environments and the need for imported (typically enslaved) labor made any profits tenuous. Further, as these islands often changed imperial hands, they become diverse and cosmopolitan societies. Sujit Sivasundaram also examines islands in the Indian, as well as Pacific Oceans. Drawing on his previous work on 'islanding,' or bounding spaces for the acts of governance, trade, or research, his chapter engages with indigenous mapmaking and writing on islands and oceans.
Alison Bashford's chapter situates the British exploration of Oceania within the greater context of Enlightenment science. Rather than necessarily trying to stake formal claims to Pacific islands, in the eighteenth century, these regions were for natural and human sciences. Katherine Roscoe focuses her attention on the offshore prison islands in Australia. She demonstrates that in Australia, already largely populated by convicts, colonial officials used offshore islands as tools to punish the recidivists who would not properly integrate into colonial society, as well as to displace Indigenous peoples who resisted settler expansion. Connecting to Bashford's previous chapter, Roscoe concludes by showing how the knowledge and labor convicts and indigenous people contributed to natural sciences in this period. H.V. Bowen's final chapter explains how the introduction of steamships impacted the ocean worlds discussed by the other authors.
In some ways, this book is an answer to a call set forth by other scholars. For example, Oceanic Histories (2017), edited by two contributors to this book, makes a similar case for how oceans fit within greater world and imperial histories.1Additionally, the now classic works of John Gillis and Richard Grove loom large throughout these essays.2 Also, as already indicated, there have been many works which attempt to situate individual or sets of islands within the larger British Empire. Some of these were indeed written by some of the illustrious historians who contributed to this volume, like Sujit Sivasundaram's Islanded (2013) and Nature and the Godly Empire (2005) or Stephen Royle's The Company's Island (2007). This is by no means a criticism. Islands and the British Empire puts many of these conversations that historians had been making individually and puts them in a succinct conversation with each other.
Finally, I commend the authors and editors for the engaging writing and sense of urgency that runs through all of the chapter's prose. It seems a strange thing to say about a scholarly edited volume, but I couldn't put it down. The pages felt alive. Not only will every historian of empire, science, and maritime studies find this a vital piece of their respective historiographies, they will enjoy themselves as they read it.
---
Dr. Daniella McCahey (@farsouthhistory) is an Assistant Professor at Texas Tech University. She is the co-author of A History of Antarctica in 100 Objects, an exploration of human interactions with the continent of Antarctica through material culture.
---
Citations
David Armitage, Alison Bashford, and Sujit Sivasundaram, eds., Oceanic Histories, Cambridge Oceanic Histories (Cambridge: Cambridge University Press, 2017).
John Gillis, Islands of the Mind: How the Human Imagination Created the Atlantic World (New York: Palgrave, 2009); John R. Gillis, The Human Shore: Seacoasts in History (University of Chicago Press, 2012); Richard H. Grove, Green Imperialism: Colonial Expansion, Tropical Island Edens and the Origins of Environmentalism, 1600–1860, Edition Unstated (Cambridge: Cambridge University Press, 1996).