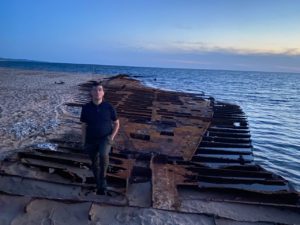 Thank you to John Matchim for the first post in our new National Film Board series, which looks at the holdings of the National Film Board that have to do with water in some form or other. This film is Trawler Fisherman, available at that link. John Matchim is a doctoral candidate at the University of New Brunswick's Department of History, Fredericton. He previously worked as a research associate for Memorial University's Faculty of Medicine in St. John's, Newfoundland, and received his M.A. in History from Memorial University in 2010. His dissertation research examines the history of the International Grenfell Association hospital ship Strathcona III, which operated in northern Newfoundland and Labrador from 1966 to 1974. He can be contacted at john.matchim@unb.ca. He is also a member of the Canadian Nautical Research Society.
For Ian Jack, 1945-2022
Trawler Fishermen (1966)
Directed by Martin Defalco
Produced by the National Film Board of Canada
Run Time: 22 minutes
And men have to go where the wind drives the snow
'cause there's no work back home on the land.
'Dragger Song,' Buddy Wasisname and the Other Fellers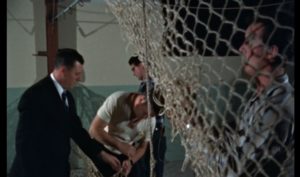 During the 1950s and 1960s fishing on the Grand Banks and the Scotian Shelf was transformed by new gear types, new vessels, and new markets. Side-trawlers and steel stern-trawlers replaced banking schooners and dories, and fresh-frozen fish replaced salted cod. The landscape of old fishing communities was transformed by enormous new processing plants and deep-water wharves, and fishers – or at least those who wanted to advance in the industry – now had to go to school before they could join the ranks of the offshore fleet.
But for provincial and federal governments in Canada, building 'modern' inshore and offshore fisheries involved much more than shipbuilding programs. Cultural interventions were needed to convince fishers to embrace new fishing technologies and crew the growing number of trawlers. As Miriam Wright argues, the College of Fisheries, Navigation, Marine Engineering and Electronics (today the Marine Institute), which opened in St. John's, Newfoundland, in 1964, was designed not only to train trawlermen but to inculcate them with more modern "attitudes."1 The federal Department of Fisheries' Trade News printed special advertisements promoting modern technologies such as electronic fish finders, as well as loans for new equipment.2 And, as we will examine here, films were produced to provide young men with a glimpse of offshore life and opportunity.
Trawler Fishermen is one such film. Released in 1966, the twenty-two minute film was directed by Martin Defalco and produced by the National Film Board of Canada (NFB) for the Department of Fisheries of Canada. Viewers are taken to the Grand Banks aboard the Cape Nova, built in Halifax, Nova Scotia, in 1966 and one of Canada's first-generation stern trawlers. The narrator – a fictious member of the crew – boasts that the Cape Nova is "as modern as they come. All that new machinery and that electronics gear aboard so the big net can drag in as much as possible in an eight-day trip."3 And to operate all of that equipment, the narrator continues, a fisher has to go to "fishermen's school" to learn modern seamanship and navigation, as well as more traditional skills such as splicing and mending nets. The formality of the new education system is illustrated by a visit to a fisheries college where instructors are neatly dressed in black jackets and ties (see image at top).
In their study of NFB representations of Atlantic Canada, Colin Howell and Peter Twohig argue that the "overriding message of films produced before 1990 was of a region dogged by tradition, ground down by capitalist rapacity, and never quite able – or willing – to achieve the benefits of modernity."4 As an official government production, and one designed to sell viewers on the benefits of the new industrial fishery, Trawler Fishermen is an exception to this observation. But the producers are still careful to include 'traditional' imagery, such as small boats being pulled out the water, men repairing a lighthouse, and a specifically commissioned folk song that describes women looking seaward from their cottage doors.
These scenes serve to reassure viewers that while fishing now involves electronic aides and processing work below deck, it is still a daring and masculine occupation – a point reinforced by the Playboy posters that are displayed in the crew quarters. Most importantly, it is made clear that men are the family breadwinners, a status that was at the center of the government's ideology of fisheries 'modernization.' Outside of the film's idealized fishing village, however, women were already a critical part of processing labor. Although the only plant workers shown are two male quality control inspectors on the plant wharf, behind the windowless walls of the plant itself women are surely laboring at processing work, and for wages less than those earned by their male counterparts.5
Fishing on the Grand Banks in the 1960s was a zero-sum competition between international fleets, and patriotism is invoked by the narrator to spur recruitment. "These Grand Banks are right off Canada's coast, our backyard," the narrator explains, and to compete with the "big, foreign trawlers" Canada has to "smarten up… get bigger ships, bigger fleets, and the best trained crews to man 'em." The association of citizenship with modernity is also featured in a Trade News advertisement from the same period, which describes Canada's new class of technological fishers as "Good citizens. Good Canadians."6
The intended messages of the film are clear enough, but a more difficult question to answer is how its viewers may have received them. Trawler Fishermen does its best to portray working conditions as relatively benign: the waters of the Grand Banks are never disturbed by more than a slow-moving ocean swell, and the narrator explains that with two watches (or shifts) each man enjoys six hours rest for every six hours on deck. Never do we see a violent winter storm with ice-encrusted rails, or crew being called from their sleep to get a trawl back in the water after its belly has been torn open. And the infamous share system that tied wages to the size of the catch, rather than a fixed and guaranteed income, is hidden behind the narrator's folksy hope that his skipper will provide them with "a trip of fish."
Not every film sanitized life on an offshore trawler. In the late 1960s, as historian Jeff A. Webb describes in Observing the Outports, an official with Memorial University's Extension Service showed inshore fishers of Newfoundland's northeast coast a film on trawler fishing. The film includes trawler crew darning their socks and a pot of soup falling from the stove during a severe storm, and the responses were derisive: "'Darning socks, that's my wife's job'… 'I rather eat [at] home where the soup pot stays on the stove'… 'You can keep your draggers.'"7
While we do not know how viewers responded to Trawler Fishermen, those who did join the offshore fleet did not remain with it for very long. Turnover rates were high and, as Wright notes, the "destination of choice" for graduates of the College of Fisheries was not trawlers but Great Lakes freighters "where wages and working conditions were considerably better." Regardless of how long they stayed on trawlers, men chose them not for a better future but because, as Newfoundland performers Buddy Wasisname recognized, there were simply no better alternatives at home.
References