This is a really interesting source, held at the Caird Library, National Maritime Museum. This is a Vade-Mecum – or a handbook. It's very similar to the quick-guides that are available for sailors today. It's a fairly small document, may not actually be pocket sized but it provides brief but thorough guides to a number of important subjects. This document was published in 1744, and contains both materials published by the Royal Navy itself, as well as material from other sources.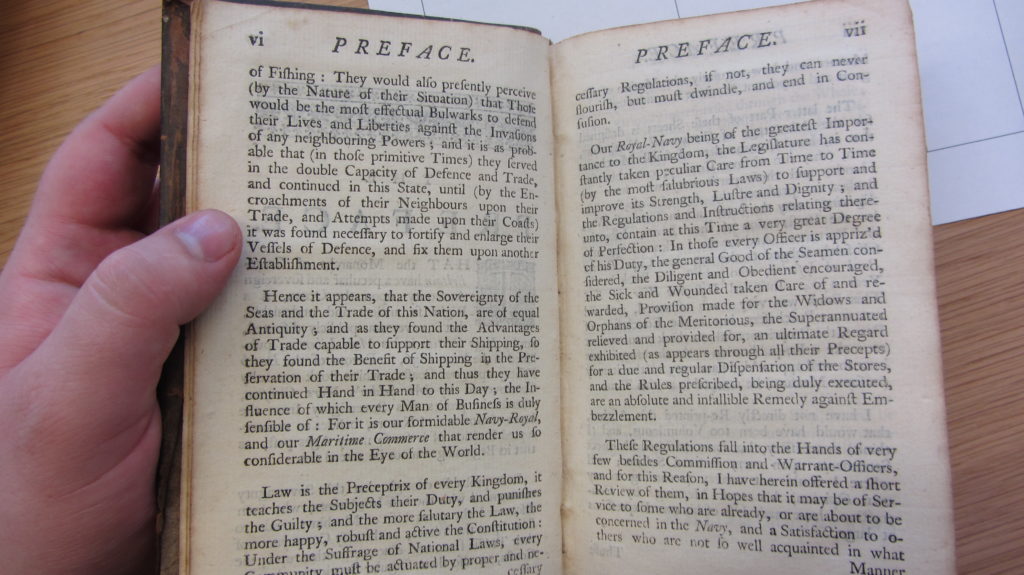 What's really interesting about this document is that some of the other quick-guides that were published in this period it was essentially a completely written text where others had lots of diagrams, for example of signals that were often used.
Much of the content of this volume comes directly from the Regulations and Instructions which were created by the Admiralty and "published."This last photo here shows the end of the Instructions for the Captain/Commanders and the beginning of the Instructions for Lieutenants. There were also instructions for all the standing officers including the Purser, Cook and Gunner. This volume was created by a maths teacher, and if you're interested in the connections between the Royal Navy, mathematics education and navigation I very strongly suggest checking out Margaret Schotte's book Sailing School. The preface is also interesting for the political aspects of the why maritime skills are important important- the kind of treatise that you won't find in many modern reference guides.
I have 62 images from this volume, and they can be accessed here.