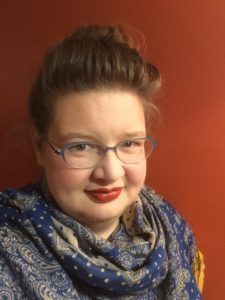 Meaghan Walker is a doctoral candidate at the University of Alberta, in Edmonton, Canada. Despite her landlocked institution, Meaghan studies the clothing of working men who went to sea under British jurisdiction in the eighteenth and nineteenth centuries. Her SSHRCC-funded dissertation is about the clothing supplied to ratings and marines during the French Wars (1797-1815) using Admiralty in-letters found at The National Archives, Kew, and the Caird Library, Greenwich. This project sees slop clothing (mass-produced garments produced through government contracts) and uniforms as illustrators of wider issues of power on and off naval ships: anxieties about masculinity, hierarchy, loyalty, administration, and technology are revealed in the letters which the Admiralty received.
Meaghan received her BA (Hons.) and Masters at Memorial University of Newfoundland in 2010 and 2011. Between these degrees, a part of her undergraduate work appeared in Papers of the Canadian Bibliographical Society/Cahiers de la Société Bibliographique du Canada about the publication of When Ships were Ships and Not Tin Pots: The Seafaring Adventures of William Morris Barnes (also published as Rolling Home). She wrote her MA using the vast bureaucratic documents stored at the Maritime History Archive in St. John's, NL, by tracking and analysing the inventories of deceased merchant seafarers who left inventories of possessions between 1863 and 1880. This project was published in the International Journal of Maritime History in 2019. During the course of her MA work, she also contributed to the SSHRC-funded project More Than a List of Crew. The MTLC projectaims to help academic and non-academic researchers find important information in the Crew Agreements stored at the MHA through interactive documents and short essays on the men and women who signed on to British merchant vessels in the nineteenth and twentieth centuries.
Meaghan is on twitter @slopclothes and can be contacted at meaghan3 [at] ualberta.ca. She currently lives in Sussex, New Brunswick.